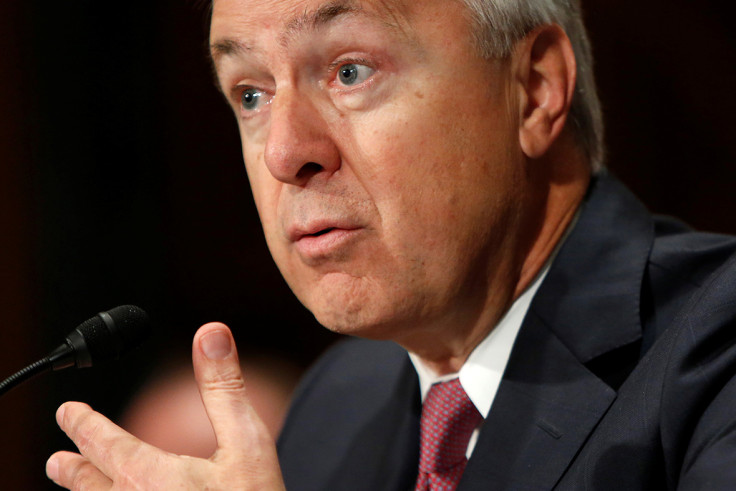 Wells Fargo boss John Stumpf returned for a second grilling in Washington, and again faced scorn for what lawmakers saw as a refusal to resign over his bank's bogus accounts scandal.
Stumpf appeared before senators earlier this month to account for his firm's handling of the affair that led to it being fined a record $185m (£142m) and accused of "widespread illegal practice" by regulators.
The chief executive appeared before Congress's Financial Services Committee today (29 September), and said he would eliminate sales quotas for branch staff by the end of the week, three months earlier than planned.
Stumpf added that the bank was strengthening its oversight of sales tactics and changing procedures for issuing credit cards.
But he was often met with anger from lawmakers regarding the culture of the bank that had such high sales targets that more than two million deposit and credit-card accounts were opened by staff, leaving the lender unable to determine whether they were opened with the full knowledge of customers.
Wells Fargo responded by firing 5,500 employees, but congressmen and women countered that no senior executives had left their jobs as a result of the scandal.
Jeb Hensarling, the Republican chairman of the committee, said in his opening statement that he has lost faith in Wells Fargo, where he has a mortgage.
"Mr. Stumpf, I have a mortgage with your bank," Hensarling said. "I wish I didn't. I wish I was in the position to pay it off because you have broken my trust as you have broken the trust of millions."
Stumpf said he was sorry the bank broke the trust of its customers and admitted under questioning that employees stole money through unwarranted fees.
Asked by Representative Sean Duffy, a Republican from Wisconsin, about whether Wells Fargo employees "stole". Stumpf replied: "In some cases, they did."
Earlier this week, the bank clawed back $41m in stock awarded to Stumpf, an unprecedented rebuke to a major bank boss, but the move did not silence calls for his resignation.