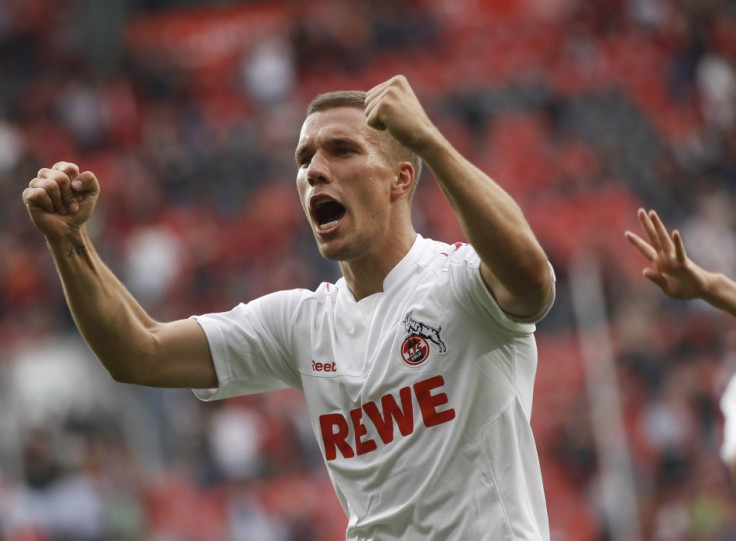 Arsene Wenger has denied that Arsenal are chasing £16 million-rated winger Lukas Podolski, while the Germany international currently considers a move abroad.
Podolski has starred for Cologne since joining the club in 2009, but he has admitted he is not completely satisfied with the side, and would like to leave the Bundesliga completely.
"I find it very difficult to imagine a change to another club in the Bundesliga,' he said this week.
"If I leave Cologne, joining a foreign club appeals to me. When I look at the inquiries already received, I am looking to see if the club plays international or Champions League football."
Arsenal were flagged as the club most likely to sign Podolski in January, but today Wenger insisted that he won't be pursuing the 26 year old in the next window.
When asked in his press conference if the manager would be taking on the star, he replied with an emphatic 'no'.
Wenger has said that he won't sign a player and gone back on his word on a few occasions in the past; in the summer transfer window for example, the Arsenal manager said he wouldn't be chasing Mikel Arteta, and the midfielder made the move to the Emirates at almost literally the last minute of deadline day.
Arsenal have already admitted that they will consider buying players in January, with defenders and strikers the main positions the club are said to be looking at bolstering.
Robin van Persie is in top form for the north London side at the moment, but if the striker should become injured, Wenger will have trouble finding a back-up, particularly with Marouane Chamakh and Gervinho heading to the Africa Cup of Nations in January.
And the same problem exists for the Frenchman in defence, with Andre Santos currently out of action and Thomas Vermaelen heavily relied upon to be fully fit.