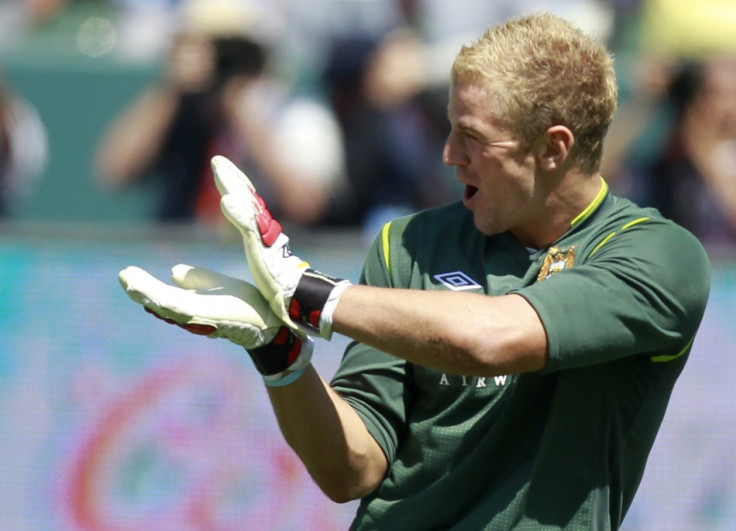 Arsene Wenger has revealed that he made an enquiry over England international Joe Hart, while the stopper was at Birmingham on loan in 2009-2010.
Wenger was in the market for a keeper after Jens Lehmann played his last game for the side in 2008, and the Frenchman has admitted that he considered making a play for Hart's signature.
And while current Arsenal keeper Wojciech Szczesny is now starring for the north London side, and is an integral part of the Gunners' top form of late, Wenger admits he believes that Hart is a top stopper and will be for years to come at City.
"I remember when Hart played at Birmingham, I asked about him and they told me he is at Man City," Wenger told the official Arsenal website.
"I thought he would be the keeper there.
"He has something that is needed for a goalkeeper to play at a big club and I am not surprised he made it as number one.
"Usually it is a job for over 30s, but we have seen that with Van der Sar, who went at a very young age to Juventus," he added.
"He went to Fulham and Manchester United where, for a few years, he was the best keeper in England."
Arsenal are currently fifth in the Premier League table, and are a win behind fourth placed Chelsea. Liverpool are also hot on the heels of the Gunners in sixth position, equal on points with their Champions League qualification rivals.
After a tough 1-0 loss to the Citizens at the weekend, at the hands of Hart's goalkeeping work, Arsenal will now look to recover by taking maximum points against Aston Villa, Wolves and QPR before the turn of the new year.
And while a keeper is no longer on Wenger's list of possible transfer targets this January, a defender and a striker may well be on the cards for a move to the Emirates.
Wenger has admitted that if the right player were available the club would spend big money bringing them on board, and more depth will be needed in the squad as the January window draws closer.