Leaders of Canada, France, Germany, Italy, UK and US have issued a joint statement condemning the bombing of Aleppo and backing Syrian rebels' calls for a ceasefire to allow in much-needed food and medicine supplies.
"We condemn the actions of the Syrian regime and its foreign backers, especially Russia, for their obstruction of humanitarian aid, and strongly condemn the Syrian regime's attacks that have devastated civilians and medical facilities and use of barrel bombs and chemical weapons," read the statement, issued on 7 December.
Around 200,000 civilians, including thousands of children, in Aleppo have been suffering daily bombings and artillery attacks by the Syrian regime, supported by Russia and Iran. The attacks hit civilian homes as well as hospitals and schools. Tens of thousands of people have fled but still need assistance.
The statement called on the regime and its allies to allow for humanitarian aid to reach the civilian population: "The opposition have agreed the UN's four point plan for Aleppo. The regime needs to agree the plan too."
The leaders also called for a UN to investigation into reports of war crimes, threatening "additional restrictive measures against individuals and entities that act for or on behalf of the Syrian regime" and blamed Russia for blocking action at the UN Security Council.
"The regime's refusal to engage in a serious political process also highlights the unwillingness of both Russia and Iran to work for a political solution despite their assurances to the contrary," the statement read, adding that only a political settlement can bring an end to the bloody civil war that will soon be entering its sixth year of fighting.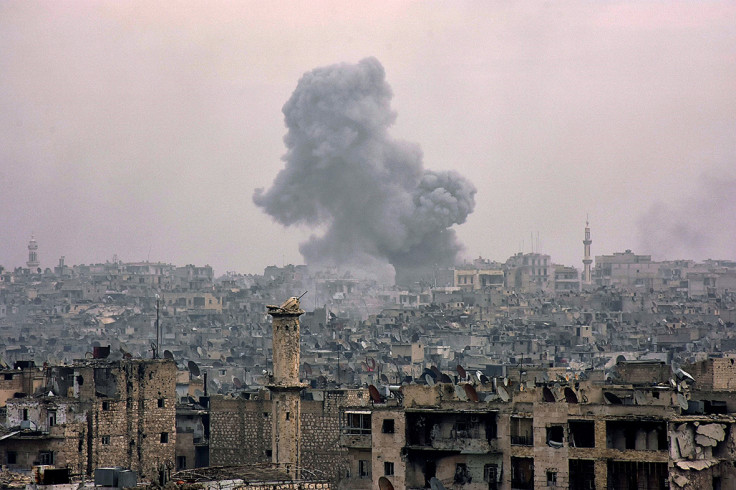 Following the relentless Syrian government forces' advance into the besieged eastern Aleppo, which has been controlled by anti-government forces since 2012, several Syrian rebel factions proposed on 7 December a five-day UN-monitored ceasefire so the wounded, sick and other civilians can be evacuated.
Captain Abdel-Salam Abdel-Razek of the rebel Nour el-Din el-Zinki faction, one of the main ones operating inside Aleppo — said the ceasefire proposal was driven by humanitarian concerns because of the rising death toll and intensive destruction, but he added there was no talk of rebels leaving the city.
According to the Associated Press, the proposal calls for the immediate evacuation of 500 seriously wounded and for allowing civilians wishing to leave to head to northern rural Aleppo, where there is almost no government presence. It also calls for negotiations over the future of the city of Aleppo once the humanitarian crisis subsides.
The proposal came as Syrian government troops and allied militiamen claim to have seized control of three-quarters of the area, including the city's ancient quarters. Recapturing Aleppo, the country's former commercial hub, would represent a major turning point for the government forces, which would regain control over all of Syria's four largest cities and the coastal region.