In true HBO fashion, the network's latest series Westworld has been a hot topic amongst television junkies since it premiered just a few weeks ago. Given its intriguing Western/sci-fi setting and mysterious story lines and characters, fans are already speculating where the plot will lead and how closely it will follow Michael Crichton's big-screen original.
Like the movie, the series centres around a futuristic amusement park (populated by robotic hosts), that wealthy "guests" can visit and live out their fantasies in through artificial consciousness.
Viewers are only three episodes in and have so far only been introduced to West World – inspired by the American Old West. However, in the 1973 movie, there are two more additional "worlds" that guests can spend time in; Medieval World (based on medieval Europe), and Roman World.
But fans have been suggesting since the show's pilot episode that HBO should opt to feature a Westeros World in the series, where android hosts could take on the guises of Game Of Thrones characters. And they've discussed it so fervently on social media that A Song of Ice and Fire author George RR Martin has even tried to get the idea off the ground, by suggesting it to Westworld showrunners Jonathan Nolan and Lisa Joy over dinner a couple of months ago.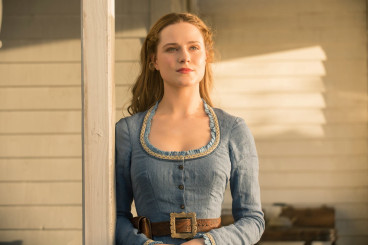 "We love George and our daughter's first trip anywhere in the world was out to Santa Fe for a screening of The Prestige at his theater, the Jean Cocteau," Westworld co-creator Jonathan Nolan told Entertainment Weekly when asked about the idea of a HBO crossover.
"He's a lovely guy and a stunning writer and it's flattering he would encourage a crossover. We should be so lucky."
Joy add that while the pair themselves would be keen on a crossover, logically, it couldn't happen given Game Of Thrones fantasy element... and that she wouldn't want the technical aspects of such themes ruining her enjoyment of the ongoing series.
"I need to be believe that dragons are real," she says. "I want them be a real thing. So as much as I love George, I can't lose that for myself!"
For more entertainment news follow A-List on Twitter @Alistinsider