Scottish Independence: Wetherspoon Boss Says Business Leaders' Doubts About Union Break are 'Nonsense'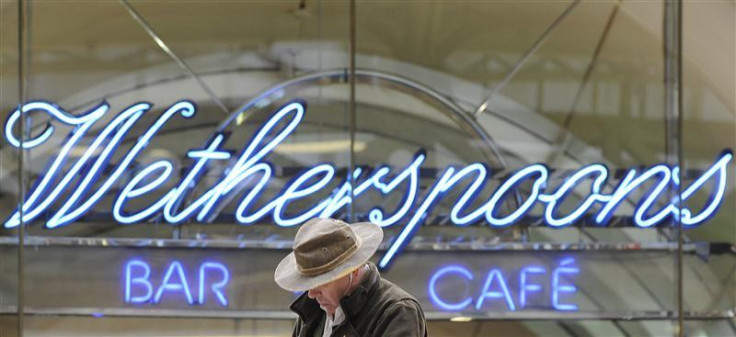 Tim Martin, chairman of JD Wetherspoon, has rubbished claims by business leaders that Scotland will fail to trade and thrive as an independent nation.
"I think there's been a massive amount of nonsense talked, especially by businessman, about Scottish independence. There's no reason why Scotland shouldn't thrive as an independent economy if that's what the Scots want," said Martin.
"New Zealand has the same population, Switzerland does very well and Singapore with half the population is an economic miracle. There's no reason why a small country can't thrive."
Martin noted that Wetherspoons has 70 pubs and 3000 employees north of the border and sales of well over £100 million, making it probably the biggest managed pub company in Scotland.
Martin admitted Scotland will need its own currency but dismissed fears about a lack of reserves.
"Scotland could do very well on its own," Martin told the BBC.
"There is a lot of nonsense talked by businessmen and politicians that it is impossible for Scotland to survive by itself. We think we can trade well there."
Martin's comments buck the trend followed by former Sainsbury's boss Justin King, who stated today that food prices and the cost of trading would increase in an independent Scotland, a view which has also been aired by Asda and John Lewis.
The outspoken Wetherspoons boss also spoke out about disparity across the tax spectrum, whereby pubs must pay 20% on food while supermarkets enjoy zero tax. Martin, who called this "the biggest danger to the pub industry", believes an independent Scotland could actually level that playing field.
"I'd be banging the drum for that. I'd wear a kilt, I'd do anything," said Martin.
Meanwhile Wetherspoon reported a better than expected 3% rise in its annual profits.
The British pub chain said that profit before tax and exceptional items was £79.4m, slightly edging last year's final results of £76.9m.
Revenue for the group rose by a strong 10% to £1.4bn.
Shares for JD Wetherspoon rose by over 1% in early morning trading to reach 771.50p.
© Copyright IBTimes 2023. All rights reserved.