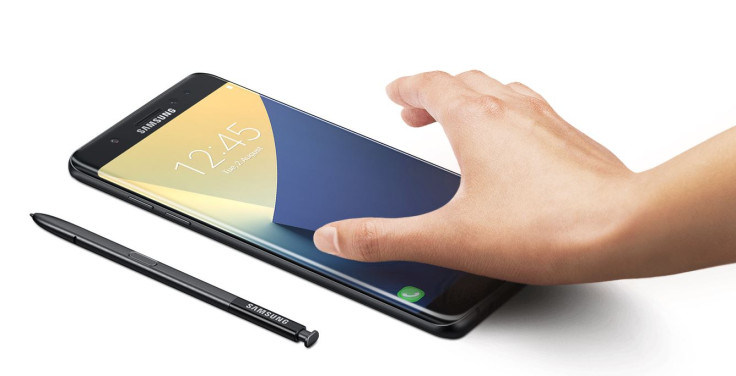 Just before Samsung announced the rollout of its new Note in select markets including the US, Canada, Mexico, Puerto Rico, Australia, New Zealand, Singapore, Taiwan, UAE and Korea, folks at iFixit managed to get a unit into their lab. Using their usual tools such as iOpener and iSclack they tore it down to reveal the innards of the latest phablet.
Samsung's new phablet packs a 5.7in Super AMOLED screen, Snapdragon 820 chip coupled with 4GB RAM and an Adreno 530 graphics unit. A 12 megapixel rear camera with OIS, 64GB internal storage, iris scanner, fingerprint scanner, S Pen stylus, USB-C and a headphone jack are a few key elements of the device.
The teardown kicked off with the S Pen, Samsung's stylus pen for the Note 7. Tests suggest it stacks up well against Microsoft's Surface Pen and Apple Pencil. Comparatively, the S Pen is smaller than either of them but it has a scan rate of 360Hz and senses 4,096 levels of pressure. In addition to that the S Pen comes with a couple of tips; a soft tip for writing on smooth glass and a hard tip for writing on the screen protector.
Removing the battery shows the 3500mAh (13.48Wh) battery is more powerful than the 10.45Wh found in the iPHone 6s Plus, but falls a bit short of S7 Edge's 13.86Wh battery. iFixit says Note 7's battery is placed inside walls curved from the rear case, which provides the battery some water protection, along with giving structural integrity. Besides, Note 7 packs a Sony IMX260 camera sensor — the same sensor found in S7 and S7 Edge.
Extracting the motherboard reveals a 4GB RAM layered over the Snapdragon 820. The modular headphone jack lets the music flow while keeping water out. Besides, the USB-C port is new to the Note 7.
The Note 7 scored four out of 10 in the repairability test, with many components in the Note being modular, which can be replaced independently. This score is at least better than the S7 Duos that got three out of 10.