Europe's wealthiest man and the richest retailer on the planet, Amancio Ortega rose to prominence by co-founding the clothing chain Zara with his late wife in 1975. Within a decade the company had expanded across Spain, before crossing the Atlantic in 1989. Since then Ortega's fortune has enjoyed a meteoric rise.
The Spaniard, whose net worth stands at $72.4bn (£55.9bn, €66.4bn), still controls almost 60% of the Inditex company, which owns Zara as well as a number of other brands such as Massimo Dutti, Oysho, Pull and Bear and Bershka.
Ortega made light work of Spain's financial crisis as he gained $45bn between 2009 and 2014.
At a glance
• Full Name: Amancio Ortega
• Age: 81
• Marital Status: Widowed
• Net Worth: £63bn ($80.8bn)
• Sons: Three, including Sandra Ortega Mera, who became Spain's richest woman with a net worth of $7.3bn, after inheriting her mother's 7% stake in Inditex after her death in 2013.
• Listed on Forbes as the fourth richest man in the world in 2017.
Humble beginnings
Born in the Leon province in 1936, Ortega left school moved to La Coruña, Galicia, aged just 13, as his railway worker father had to relocate. Ortega took to his new surroundings quickly and soon began working in a clothing shop before setting up a business producing women's bathrobes with his siblings and one Rosalia Mera, who would later become his wife.
In 1972, Ortega founded Confecciones Goa and began selling quilted bathrobes, which were produced by cooperatives employing local women.
Going mainstream
Three years later, Ortega launched Zara with his wife. However, the chain, which now boasts approximately 1,500 stores across 70 countries, was intended to be called Zorba, but Ortega had to settle for Zara as his name of choice was already taken.
The following year, Zara, which initially produced mainstream clothing at low prices, opened more stores and within a decade the company had expanded across the whole of Spain, when Ortega founded Inditex.
Alongside Zara, the latter, which has since become the biggest fashion group in the world, operating over 7,200 stores across 93 different countries, owns the chains Zara Home, Massimo Dutti, Bershka, Oysho, Pull and Bear, Stradivarius and Uterqüe.
Crossing the Atlantic
In 1988, Zara opened its first store outside Spain as it branched out to Portugal and, within 12 months, Ortega took his company across the Atlantic as the fashion retailer launched in the US. In the next two decades, Zara would expand across the world, from Mexico to Japan and Singapore.
The company has since gone on to establish itself as an industry giant, helping Inditex, which floated in 2001, to annual sales of more than €18.1bn. In 2011, Ortega stepped down from his role at Inditex and was replaced by Pablo Isla, the company's chief executive and vice-president.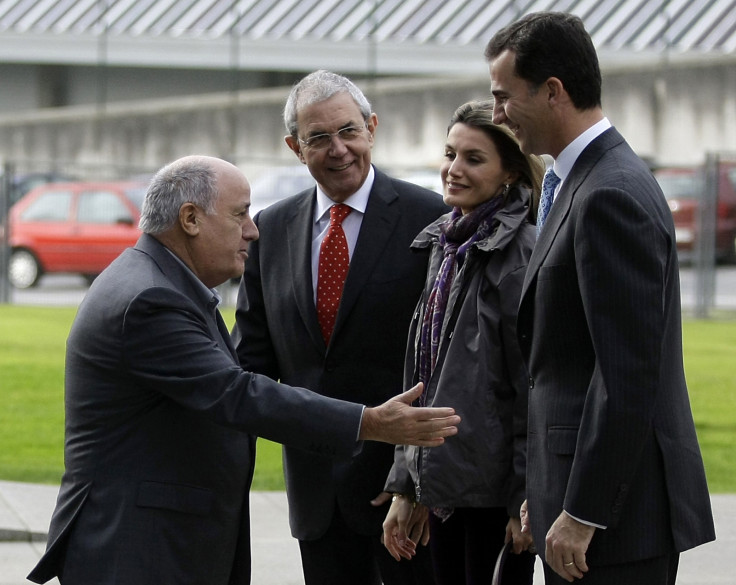 Expanding portfolio
Ortega has expanded his portfolio to incorporate some major real estate projects, including the tallest tower in Spain, the Torre Picasso in Madrid and the The Epic Residences & Hotel in downtown Miami. Zara's founder, who also owns Spanish football club Deportivo La Coruña and regularly attends games at the Riazor, made light work of Spain's financial crisis as he gained $45bn between 2009 and 2014.
Keeping a low profile
Despite his immense wealth, Ortega has managed to keep a remarkably low profile throughout his career. The 81-year-old has only conceded three interviews in his lifetime and no pictures of him were published until 1999.
Even more bizarrely, for a man who's founded one of the giants of the fashion world, Ortega seems to have little time for fashion and he is known for refusing to wear a tie and dressing in the same outfit – a blue blazer, white shirt, and grey trousers — none of are Zara products.
Despite stepping down from his role as Inditex's chairman five years ago, he regularly visits the company's headquarters and he often has lunch with his employees in the company cafeteria, rather than in his own office.
Brfiefly becoming the richest man in the world
In September last year, Forbes named Ortega the world's richest man, after his personal fortune surpassed that of Microsoft founder Bill Gates, who previously laid claim to the title.
The businessman's $79.5bn fortune increased by $1.7bn, surpassing the tech entrepreneur's estimated $78.5bn, when shares for parent company Inditex went up 2.5%. However, Ortega has since relinquished the title –but he remains the wealthiest retailer in the world.