Colonel Rambo: Anti-Balaka suspected warlord roaming free in CAR
The vast majority of those accused of grave crimes are still living among their victims.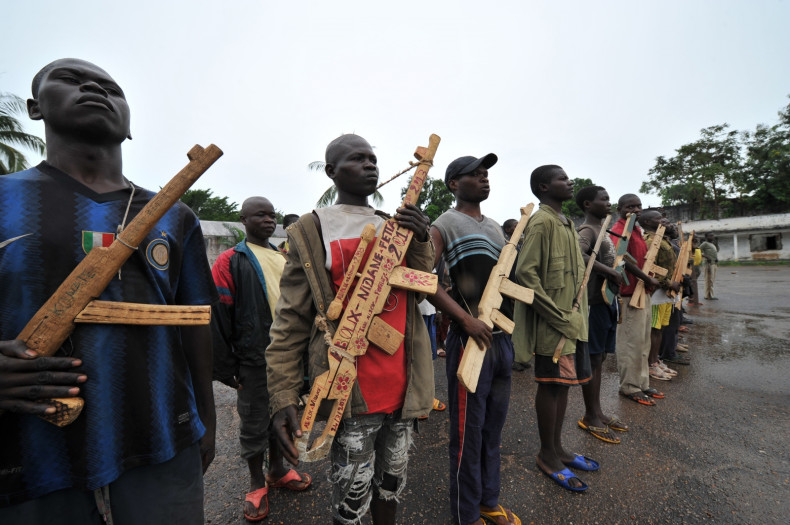 Human rights groups have sounded alarm bells as the vast majority of people suspected of orchestrating or committing war crimes and crimes against humanity in the Central African Republic are still "roaming free".
The country erupted into chaos when Muslim rebel group Seleka toppled the then-president François Bozizé's government in March 2013.
Following the coup, the largely Christian vigilante anti-Balaka group organised itself to fight against the Seleka, carrying out large-scale reprisal attacks against Muslim civilians, sparking a sectarian civil war.
Several high-profile leaders have been arrested, but none has ever been prosecuted. IBTimes UK looks at Alfred Yekatom, one of these suspected warlords.
Born in 1976 in the CAR, Yekatom was an anti-Balaka commander, known as "Colonel Rambo". The name anti-Balaka is in reference to the made up word balaka (a mix between the words "machete" and "AK 47" in the Sango language), the weapons of choice for the Seleka rebels. The moniker effectively means "machete-proof" or "invincible".
During his position as Chief Corporal of the Forces Armées Centrafricaines (FACA), Amnesty International and the United Nations (UN) both claim he committed serious abuses and crimes under international law between December 2013 and May 2014.
Yekatom's militia is suspected of conducting an ethnic cleansing campaign against Muslims. In one instance in 2014, 20 residents of Mbaiki independently identified Yekatom as being responsible for coordinating anti-Balaka militias who killed civilians in the town.
According to the US, Yekatom also used 153 children as fighters in his group before handing them over to the UN in August 2014. Additionally, Amnesty says, Yekatom's forces operate armed checkpoints to illegally tax vehicles travelling on the roads and waterways from Bangui to Cameroon.
On 21 August 2015, the US imposed sanctions against Yekatom for "being (a) leader of groups that threaten the peace, security, or stability of the CAR".
"Today's designations target those responsible for waging a campaign of violence and atrocities against the innocent civilians in the CAR," John E Smith, acting director of the US Department of the Treasury's Office of Foreign Assets Control (OFAC), said at the time.
Despite also being under UN sanctions, Yekatom was later that year appointed to CAR's National Assembly. The leader currently serves as a member of the Defence and Security Commission, dealing with issues relating to Disarmament, Demobilisation, Rehabilitation and Reintegration (DDRR) programmes.
Yekatom's brother, Yves Saragba, was also an anti-Balaka commander in Batalimo, Lobaye province, and a former FACA soldier.