In 1993 crime thriller Fugitive Harrison Ford played Richard Kimble, a man who goes to great lengths to clear his name after being wrongfully accused of murdering his wife. Unfortunately for the acting legend, it looks like art may be imitating art.
TMZ has learned that the Stars Wars veteran's name has been linked to a crime he didn't commit, and the police want to know who set him up. According to the site Huntington Beach PD smelt a rat when Ford's name recently popped up on their arrest log. It stated that the a 73-year-old Harrison Ford was taken into custody in California on 7 March for inflicting corporal injury on a spouse and possession of a controlled substance.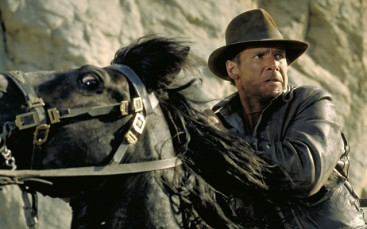 The thing is that there is no record, outside of the online entry, of Ford or any other person bearing the same name being arrested. The plot thickens because Ford's wife Calista Flockhart, 51, did not make a complaint and the Indiana Jones star is currently out of country.
Further prove that the log was suspicious was the fact that the "Case ID" didn't match the numerical pattern of other listed cases.
Meanwhile, after 11 years after the last instalment, Disney bosses have confirmed that Harrison Ford and Steven Spielberg will team up again for a fifth Indiana Jones movie. It means that the father-of-five will be 76 when he reprises his role as film's most famous archaeologist. He last donned the trademark fedora to play in 2008's Indiana Jones And Kingdom of the Crystal Skull.
Disney chair Alan Horn said: "Indiana Jones is one of the greatest heroes in cinematic history, and we can't wait to bring him back to the screen in 2019. It's rare to have such a perfect combination of director, producers, actor and role, and we couldn't be more excited to embark on this adventure with Harrison and Steven."
The highly- anticipated adventure will be released in cinemas on 19 July 2019.