Kevin Durant's decision to swap his long-term home in Oklahoma City for the sunnier climes of the Bay Area in the summer of 2016 and join forces with an already historically-talented Golden State Warriors team boasting the likes of Steph Curry and Klay Thompson rocked basketball to its foundations. It also cast him a villain in the eyes of many, severing his devastating partnership with Russell Westbrook.
Here is everything you need to know about the former MVP, eight-time All-Star, quadruple scoring champion and double Olympic gold medallist.
Kevin Durant fact file
Full name: Kevin Wayne Durant
Date of birth: 29 September 1988
Home town: Seat Pleasant, Maryland
Country: USA
Net worth: $120m (estimated)
Height: 6'9
Weight: 240lbs
Current team: Golden State Warriors
Jersey number: 35
Years pro: 10
Twitter: @KDTrey5
Instagram: trey5
Facebook: Kevin Durant
Who is Kevin Durant?
A native of Seat Pleasant in Prince George's County, Maryland,, Durant was raised by his mother Wanda – with the support of his aunt and grandmother–- and started his basketball journey as en eight-year-old at Seat Pleasant Activity Center.
A childhood friend of current NBA journeyman Michael Beasley, he learned from coaches Taras Brown and the late Charles "Big Chucky" Craig, going on to win two AAU titles with the PG Jaguars. He also played alongside Sacramento Kings point guard Ty Lawson for the DC Blue Devils.
Durant played high school basketball at National Christian Academy before moving to Oak Hill Academy and later Montrose Christian, where he teamed up with Greivis Vasquez. Maturing into the second-best prospect in the country behind Greg Oden, he committed to the University of Texas in 2005 despite being recruited by North Carolina.
The rangy small forward, a McDonald's All-American Game MVP in 2007, averaged 25.8 points and 11.1 rebounds during his one season as a Longhorn and led Rick Barnes' team to a third-place finish in the Big 12 and the second round of the NCAA Tournament. He became the first freshman ever to win the Naismith Trophy men's college player of the year gong and claimed a clean sweep of all seven major national awards.
After one year at college, Durant, who wears the number 35 in honour of Craig following his death in 2005, unsurprisingly declared for the 2007 NBA draft and was selected by the Seattle SuperSonics with the second overall pick. Ohio State's Oden went first to the Portland Trailblazers, but saw his hugely promising career sadly wrecked by injury.
Professional career highlights
Named as the 2008 NBA rookie of the year after averaging 20.3 points per game during the Sonics' last season in Seattle before their controversial relocation to Oklahoma City.
Made the first of eight NBA All-Star appearances to date in 2010 in Arlington, Texas.
Averages 30.1 points per game in 2009-10 to win the NBA scoring title. Durant also scooped the award in 2011, 2012 and 2014, joining Wilt Chamberlain, Michael Jordan, George Gervin and Allen Iverson as one of only five players to win it four times.
Scores 28 points to lead Team USA to victory over Turkey in the 2010 FIBA World Championship final, being named tournament MVP.
Wins the All-Star Game MVP award in 2012 after scoring 36 points in the Western Conference's 152-149 victory over their Eastern counterparts in Orlando, Florida.
Made his first and thus far only trip to the NBA Finals in 2011-12, where the Thunder lost in five games to LeBron James and the Miami Heat.
Scores a game-high 30 points as Team USA defeated Spain in the gold medal game at London 2012 to retain their Olympic title.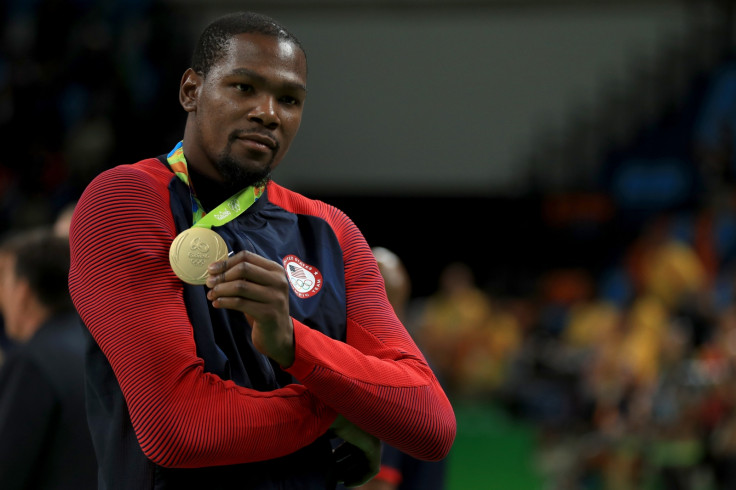 Collected 119 first-place votes en route to being named ahead of James and Blake Griffin as the 2013-14 NBA MVP after averaging a career-best 32.0 points per game to go along with 7.4 rebounds and 5.5 assists. His streak of 41 consecutive games with at least 25 points surpassed Jordan's best mark and had not been seen since the days of Chamberlain and Oscar Robertson. He was the first player to claim the MVP award/scoring title double since Iverson in 2000-01.
Stunned the NBA in July 2016 by announcing he has agreed to sign with the Golden State Warriors.
Again scored 30 points in an Olympic final to help Team USA thrash Serbia 96-66 at Rio 2016.
Ruled out of action indefinitely after suffering a grade 2 sprain of the medial collateral ligament in his left knee and a tibial bone bruise during the first quarter of a 112-108 loss to his hometown Washington Wizards.
What is Kevin Durant's net worth?
In 2016, Forbes had Durant tied with music stars Justin Bieber and Kenny Chesney and tennis behemoth Novak Djokovic as the 26th highest-paid celebrity in the world. They listed his annual earnings at a cool $56m, with $20.2m in salary and $36m coming from a variety of endorsements.
Durant's main partner is Nike, who retained his services at the 11th hour in 2014 amid strong interest from Under Armour. His 10-year extension with the American sportswear giant is believed to be worth $300m.
Durant ranked behind only Cristiano Ronaldo, Lionel Messi, James and Roger Federer on Forbes' 2016 list of top-earning athletes. His total net worth is estimated at around $120m.
How tall is Kevin Durant?
Officially listed as a 6'9" small forward since entering the NBA a decade ago, it has long been argued that Durant is actually much closer to the 7-foot mark. This becomes evident when he goes up against the league's true big men.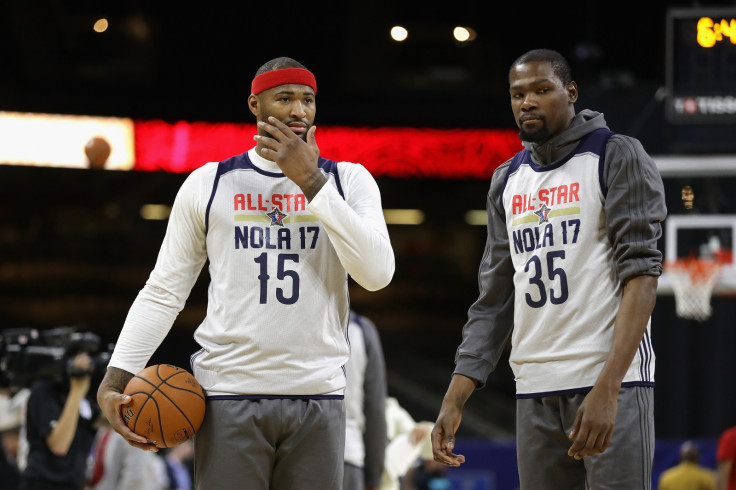 Finally addressing that controversy during an interview with KNBR in December 2016, he said: "I was recorded at 6'10" and three-quarters with no shoes, so with my shoes on I'm 7-feet. I just like messin' with people. They just ask me so much... yeah, I just like messin' with people."
What is Kevin Durant's shoe size?
Durant is believed to wear a size 18 sneaker. In UK terms, that is around 17.5. Try and find those on the shelves.
When is Kevin Durant's contract up?
When joining the Warriors in free agency, Durant inked a two-year contract worth approximately $54m. That second year is a player option, meaning that he can choose to opt out and become a free agent again in the summer of 2017 in order to sign an even more lucrative deal in lieu of the rising salary cap.