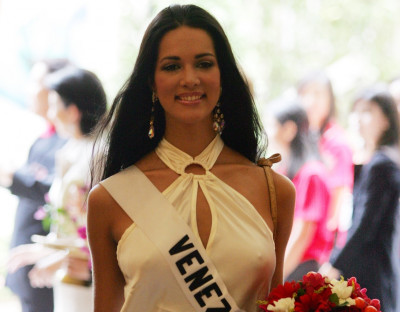 Former Miss Venezuela Monica Spear became the lastest victim of the of epdemic of violent robberies in the South American nation when she was shot dead, along with her British ex-husband, in front of their five-year-old daughter.
The 29-year-old beauty queen and Henry Berry, 39, were held up by a gang after their car broke down on a motorway on the highway between Puerto Cabello and Valencia in central Venezuela.
The couple, who were on good terms despite having split up, had been enjoying a family vacation before they were killed in front of their five-year-old daughter Maya. The little girl was shot in the leg but survived the attack.
After giving up her beauty crown, Spear became a successful TV presenter and soap actress.
Spear's death has shocked her many fans who have taken to Twitter to express their anger and pay tribute.
"I'm so sad for my Venezuela, my condolences for Mónica Spear's family. Rage and impotence are what I feel right now," wrote Venezuelan salsa singer Oscar D'León.
Eight facts you need to know about Monica Spear.
She was crowned Miss Venezuela in 2004
Following her pageant victory she became a soap opera actress, with her role in 'Forbidden Passions' the most notable.
She graduated with a bachelor's degree from the University of Central Florida.Her original major was in chemical engineering which she later changed to theater.
She was born in Venezuela but lived in the United States where she held American citizenship.
Her parents live in Orlando, Florida.
Spear married British businessman Thomas Henry Berry in June 2008 and gave birth to their daughter Maya in October of the same year.The couple divorced in 2013.
Her final tweet was a link to a Instagram video of the couple admiring the beauty of the plains of Apure state. She captioned it "La magia de los llanos," which translates to "the magic of the plains."
She was a keen social media user and has 398,000 followers on Twitter