The whereabouts of Sheikh Ibrahim Zakzaky – leader to millions of Shia Muslims in Nigeria – has been shrouded in secrecy ever since security seized him from his home in December. The last public sighting of the 62-year-old, in the form of a picture shared by his supporters on social media, appeared to show him slumped on the ground, his face and torso covered in blood.
As leader of the Islamic Movement in Nigeria (IMN), Zakzaky is used to being targeted by government forces and has been repeatedly imprisoned by successive regimes. His movement's campaign for an Iranian-style revolution in Nigeria to create a republic along Islamic lines has seen many IMN supporters killed.
The latest bloodshed, between 12-14 December, saw hundreds die in what IMN supporters claim was a "massacre" by soldiers. The Nigerian Army insists it was responding to an assassination attempt by the sect's members on the Chief of Army Staff, Tukur Buratai.
Who is Sheikh Ibrahim Zakzaky?
Zakzaky, born in 1953, grew up in Zaria, northern Nigeria, while the country was still under British colonial rule. He received an Islamic education in his early years before going on to study economics at Ahmadu Bello University in Zaria.
An active member of the Muslim Student Society, he took part in demonstrations against the government and joined activists' calls for the inclusion of Shariah in the Nigerian constitution. But it was the year he left university, in 1979, that saw the young Islamic activist become inspired by events in the Middle East. The overthrow of the western-backed Shah in Iran during the revolution, and the subsequent rise of Shia Muslim cleric Ayatollah Khomeini as the country's leader, led to Zakzaky believing a similar revolution could happen in Nigeria.
His growth as a figurehead for this "revolution" has seen him jailed a number of times by successive regimes in Nigeria, often on charges of civil disobedience. He has spent a total of nine years in prison, the IMN says, which includes being jailed under General Sani Abacha's military regime in the 1990s for declaring, "there is no government except that of Islam".
He is married and has had nine children, three of whom were killed during a protest in 2014.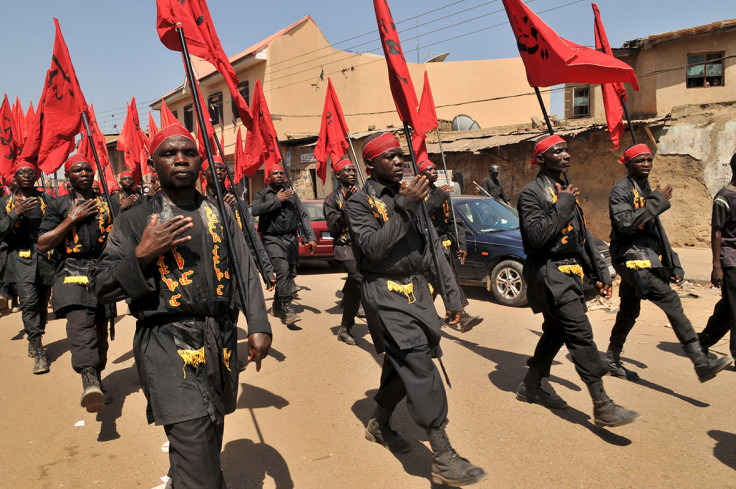 What is the Islamic Movement in Nigeria?
Establishing the IMN around the same time as the Iranian revolution, Zakzaky has led the sect on a long campaign to establish a new Nigerian republic along Islamic lines. The country has one of the largest Muslim populations in west Africa, with a Sunni majority and Shia minority making up about 50% of its 180m people. Human Rights Watch estimates the group has 3m supporters across the country.
According to the International Crisis Group (ICG), the IMN's goal is "to ensure more stringent application of Islamic legal and administrative systems [and] then ultimately to create an Islamic state in Nigeria".
Zakzaky has repeatedly said this "revolution" must be carried out peacefully and without the use of violence, saying the IMN is "on a mission to change the mind of man" and that "revolution is not achieved through force". IMN members hold regular processions, mainly in Zaria, to raise awareness of their movement. With close ties to Iran, the sect also advocates the liberation of the Palestinian territories controlled by Israel and strongly criticises the Nigerian government's links to Saudi Arabia.

The movement says it runs more than 300 primary and secondary schools across northern Nigeria.
Deaths of IMN supporters
Supporters of IMN complain they are regularly targeted by Nigerian government forces. The most recent clashes, in December, saw their leader detained yet again by security services. He has still not been released.
In July 2014, a military crackdown of what Amnesty International called a "peaceful protest" by IMN followers, in Zaria, led to 33 deaths. This included two children and three of Zakzaky's sons. About 12 IMN supporters were said to be killed while in detention.
In December 2015, Nigerian soldiers were accused of killing an estimated 300 IMN supporters in Zaria during raids at Zakzaky's home, at a nearby mosque, and at a local religious centre. Human Rights Watch said the deaths "appear to have been wholly unjustified" and ordered an investigation into the incident.
The raids – now known by IMN supporters as the "Zaria massacre" – also saw Zakzaky detained by security services. A picture, subsequently spread by his supporters on social media, appeared to show him injured and covered in blood.
The Nigeria Army alleged members of the IMN tried to kill the chief of army staff, Tukur Buratai. IMN denied the allegations and accused the police of attacking and killing hundreds of unarmed people.
What next for the IMN?
The IMN's links to Iran and its aim to establish a state along Islamic lines in Nigeria has long put it on a collision course with the country's ruling government. Fears the group may take up arms in the pursuit of its political goals – such as Nigeria's Sunni terrorist group Boko Haram – have been fuelled by government claims of finding IMN supporters with weapons.
There have also been reports of Zakzaky's supporters carrying out military-style drills and of "infiltrating" the country's army and security services. To what end, it is not yet known.
The IMN has always insisted it is a peaceful movement and that the Nigerian government has invented claims its supporters are arming themselves.
But there is concern the Nigerian government, preoccupied with fighting Boko Haram, is allowing a "state within a state" to grow under Zakzaky's rule – a concern amplified by its powerful ally in the government of Iran.
With the December unrest seeing some of the worst bloodshed inflicted on IMN supporters in recent years, tensions look set to remain high in the near future. The direction this movement takes will likely be influenced significantly by how the Nigerian government decides to deal with the sect – whether through dialogue and co-option, or with violence and repression.