The forthcoming wedding of Japan's Princess Mako to her college sweetheart Kei Komuro has triggered interest around the world but it looks like we might have to wait a couple of years to celebrate the royal event. The Imperial Household Agency announced on 6 February that the wedding was being postponed due to "lack of preparation".
The 26-year-olds were expected to get formally engaged on 4 March in a traditional ceremony called "Nosai no Gi". The wedding itself was slated for 4 November. The agency stated that "a series of important ceremonies next year", were already on the books. This could be in reference to the handover of the Chrysanthemum Throne from Emperor Emperor Akihito to Crown Prince Naruhito which will take place in April 2019.
There are concerns that the postponement could be related to recent reports of financial troubles among the wedding party.
A tabloid claimed that Komuro's mother and her former partner were disputing over money that was allegedly loaned to her for her son's education. She claims the funds were given as a gift from her then-boyfriend.
Mako, however, stressed that the delay was to better prepare for married life. "Last May, there had been reports about our engagement at an unexpected time. We believe we have rushed various things," she said.
"I wish to think about marriage more deeply and concretely and give sufficient time to prepare our marriage and for after the marriage."
She claimed the couple's "immaturity" was to blame for the rushed plans and that they regretted it. The princess has reportedly run the new plan by the emperor and empress who have agreed to the changes.
"We feel extremely sorry for causing great trouble and further burden to those who have willingly supported us," Mako said, according to the Nikkei Asian Review.
While the agency has refused to comment of the tabloid claims, one senior official opined that it made more sense to sort out any issues before taking the big step. "If there is any trouble, it should be resolved, and then the two should get married. Time can be used to further strengthen their bonds," the person told the Japan Times.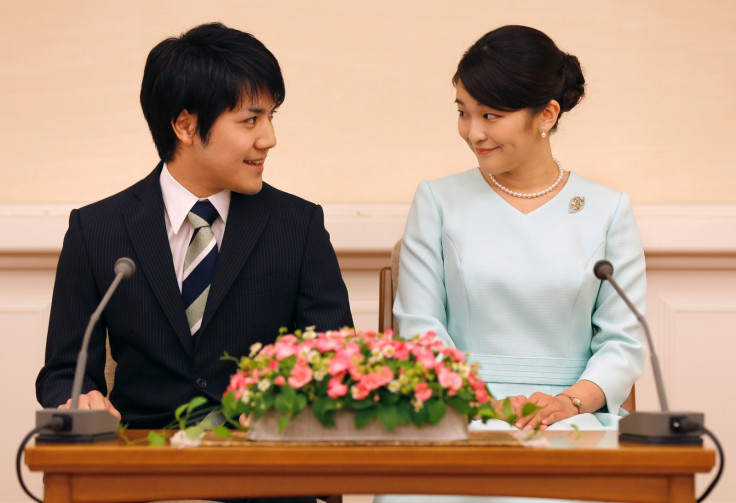 The princess and Komuro first met over five years ago while studying at the International Christian University in Tokyo. The couple announced their engagement in September 2017 and with it, Mako's choice to renounce her status as a member of the imperial family.
In accordance with Imperial House Law, a woman of royal blood loses her position if she chooses to marry a commoner. "I would be happy if I can make a warm, comfortable family with lots of smiles with Mr. Komuro," she earlier said of her fiancé who works as a paralegal.