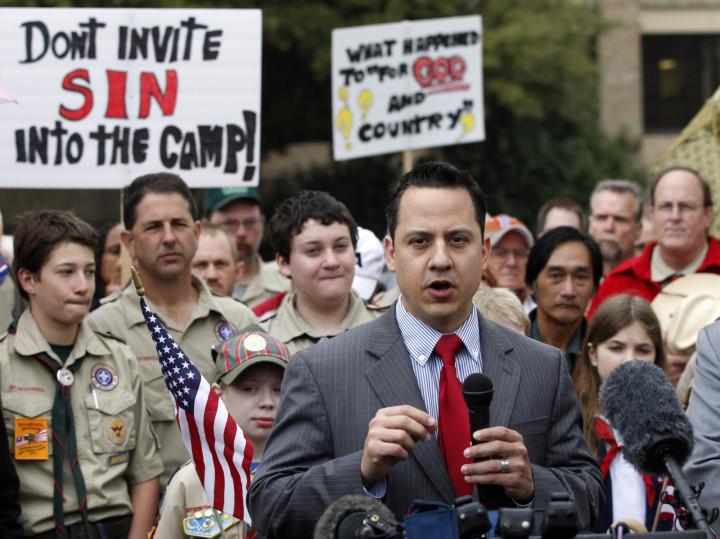 The wife of a high-profile US anti-gay rights campaigner left him to have a sexual relationship with a woman, shortly before he adopted his hardline stance on same-sex rights.
Newly uncovered documents raise the possibility that Texan firebrand Jonathan Saenz is working through his feelings about the failed relationship by bashing equality laws in the United States.
That was the suggestion posited by Lone Star Q, a US website, after it found papers pointing to a series of dates that could be signposts in how Saenz's thinking developed.
The breakdown of his marriage in 2011 marked his transformation from a conservative campaigner into full-blown anti-gay firebrand, with a reputation for opposing LGBTQIA-friendly legislation at every turn.
Divorce papers from the time Saenz and Corrine Morris Rodriguez Saenz split, reveal it happened only months before he took up arms against equality laws for same-sex couples.
Saenz resisted the divorce brought by his now ex-wife, on the grounds of "conflict of personalities", and fought unsuccessfully to ban Corrine's lesbian lover from contact with their children.
He also took charge of Texas Values – an anti-gay 'family values' campaigning organisation – while he and his ex-wife were in the divorce court.
Since then he has not let up in his fight against same-sex relationships.
This includes a series of extraordinary claims such as Christians could be put in to concentration camps upon the demand of gay-rights activists; equality laws would be exploited by sex abusers to break in to families' bathrooms; and same-sex marriage would lead to people having multiple husbands and wives.
Could it be that Saenz is working through his anger in the most public way possible?