Will Mike betray Kevin to get out of prison in Suits season 6 episode 4?
Mike considers a deal that could reduce his sentence in the upcoming episode.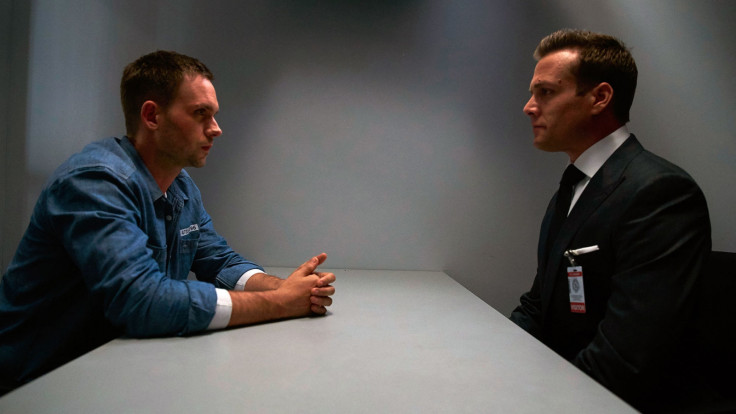 Mike Ross will be presented with a deal by Harvey Specter, which could potentially ensure his early release from Danbury Federal prison, but it will involve betraying someone the faux lawyer has come to trust in the upcoming episode of Suits season 6.
Episode 3 of Suits season 6 found Mike bonding with his jail roommate, Kevin Miller, who proved himself loyal by having the lawyer's back against Frank Gallo's men. In the episode Frank had his men attack Kevin just to get to Mike, but this incident ended up strengthening their bond and trust in each other.
However, this comrade may not last longer as Harvey who had asked for Sean Cahill help in rescuing Mike, finally came through. Cahill told Harvey that he found a way to get Mike out of prison early.
"He has to inform on one of his fellow inmates," says Cahill. Harvey questions, " What makes you think he can even get close to this guy?" But Cahill explains that getting close to this guy will not be a problem and added, "It's his roommate!"
Harvey is not optimistic and admits that, "Mike is never going to go for this." To which the fellow lawyer tells him, "Kevin Miller is a smoking gun on another case. We tried to get him turn on his family, but he wouldn't. Mike gets him to turn, or figures out to get what we need out of him anyway, he is free!"
Will Mike betray his only friend in prison to get out of jail? The episode 4 of Suits season 6 is ominously titled - Turn - which will air next Wednesday (3 August) at 9pm EST on USA Network. The official synopsis for the episode teases Mike considering a deal for a reduced jail time. Here is the fell description for episode 4:
Mike considers a deal that could reduce his sentence; Jessica and Louis take different approaches to deal with tenants; Rachel represents a death row inmate.
A promo for the episode shows Harvey furiously asking Mike to take this deal. Harvey tells Mike, "There is someone in here, trying to kill you. I am giving you a way out!" Mike then asks, "What's the catch?"
We also see Harvey visiting Cahill, wherein the latter makes it very clear that Mike has 24 hours to change his mind, or this thing is done! Will Mike turn informant? Keep watching Suits season 6 on USA Network to know more.
© Copyright IBTimes 2023. All rights reserved.