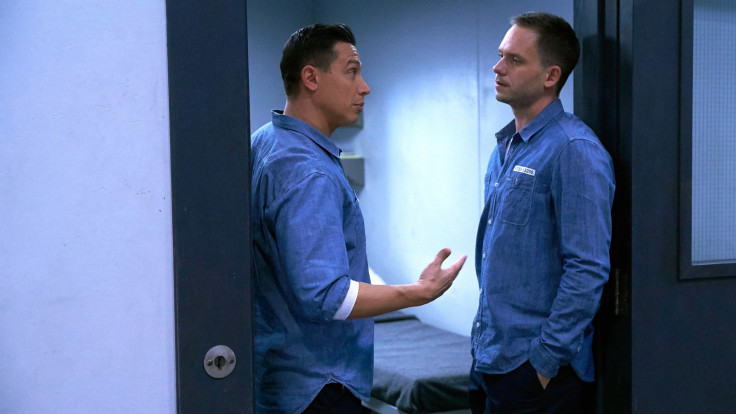 Mike Ross begins to work towards his plan, which is to gain Kevin Miller's trust, but will run into a lot of trouble in the upcoming episode of Suits season 6. In episode 5 titled, Trust, Harvey Specter will enact a risky plan.
The synopsis of episode 5 reads of follows: "Mike works to gain Kevin's trust while Harvey enacts a risky plan. Jessica mends the firm's reputation as Rachel runs into a roadblock. Louis enlists Donna's help in a matter of the heart."
Click here to watch Suits season 6 via live stream on the USA Network. You can also watch the episode online by clicking here (only in the US).
Meanwhile, the latest promo for the episode shows Mike telling his counsellor about the deal he made with Sean Cahill. "I made a deal to get out of here early," he tells Julius Rowe. The counsellor then asks, "What kind of deal?" Mike explains, "The kind where I have to inform on someone."
The scene changes to Frank Gallo telling Harvey, "You son of a b***h, you set me up!" The promo also hints at Kevin figuring out that something is not right as he tells the former lawyer, "Something's going on here and I could tell." This is followed by cops showing up at Mike's bunker and say, "You are going to solitary."
So does this mean that Kevin figured out Mike is an informant? Actor Erik Palladino, who plays Kevin, spoke to Carter Matt and teased that this Wednesday's episode is a "must-watch".
He said, "I will say that it's the most revealing episode to date for the season. I would be remiss if I did not tell the audience that this is an episode that you have to watch. It's a must-watch episode for the season."
To know what happens ahead on the show, watch Suits season 6 episode 5 that airs on 10 August at 9pm EST on the USA Network.