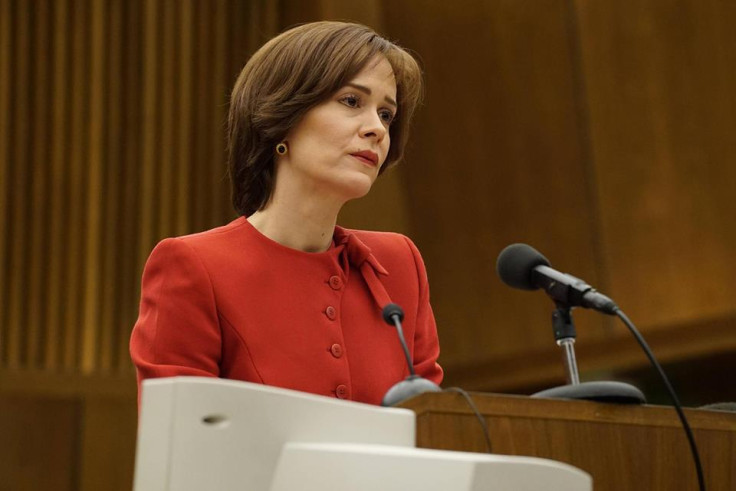 Sarah Paulson is "begging" to star in the upcoming season of American Crime Story, which is set to feature Hurricane Katrina as the main theme. The actress played prosecutor Marcia Clark in the show's pilot season, The People v. OJ Simpson: American Crime Story.
Paulson, who attended the summer Television Critics Association press tour, said, "I'm begging them to let me do that. Begging on my hands and knees." The second season of the FX anthology series will feature the greatest natural disasters in American history, Hurricane Katrina. The People v. O.J. Simpson featured the former athlete's trial from the lawyers' point of view.
Executive producer Brad Simpson revealed that the writers' room is "just now starting to get the episodes in", but the story will be completely unlike the first season. "We're looking at it to be tonally and thematically incredibly different," he said.
Speaking about adapting Hurricane Katrina as the plot, Brad explained, "I think every year, the show will change and morph based on the crime that we're exploring, but really it's going to be about two things: One is just the intensity of what it was like to be there on the ground and to be in that pressure cooker."
"And also, thematically, the bigger crime, which is that Katrina that was something that was predictable, that we weren't prepared for even though we knew that it was going to happen," he added.
Simpson also said that the next season will feature a mixture of well-known and unknown characters, but refused to name which actors will be returning for season 2. "You will have the famous people and you will also have the people who weren't famous during Katrina. I'm, sadly, not going to be making any big news here today in terms of who will be returning," he said.
After a successful pilot season run, the second season of Ryan Murphy's show is set to premiere sometime in early 2017 on the FX network.