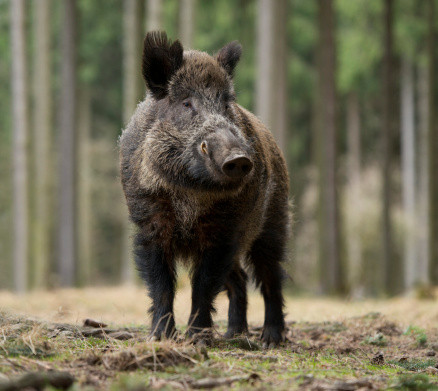 A 47-year-old man from Wootton Basset has died after his car hit a wild pig on the M4.
After crashing into the animal, he then hit an articulated lorry.
He was pronounced dead at the scene.
The driver of the Renault lorry had medical treatment at the scene of the crash for minor should injuries.
Wiltshire Police closed the road for eight hours while the Collision Investigation Unit investigated the area.
Sergeant Steven Love told the Metro: "This is a truly tragic incident and my thoughts are with the family and friends of the victim.
"It is quite rare for a wild boar to be on the carriageway of the motorway.
"It is more common for the police to receive calls involving horses or deer but each is equally dangerous to motorists.
"This was a particularly large wild animal and would have caused considerable damage to any vehicle."
It is estimated that there may be as many as 1,000 wild boar in the UK. However poaching has become an increasing problem particularly around the Forest of Dean area.
Wild boar can venture from their woodland home into urban areas or near motorways in search of food. In rooting up the grass verges looking for worms and grubs, they can be a road traffic hazard.