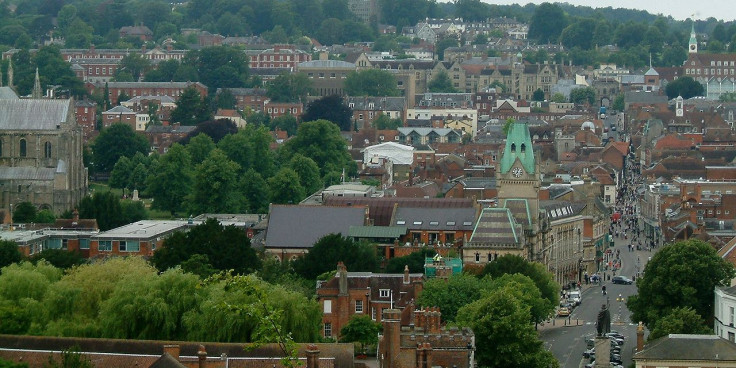 The sleepy Hampshire city of Winchester has been selected by the Sunday Times as the best place to live in Britain. Offering what the paper describes as "an irresistible mix of food, festivals and feelgood factor", the ancient capital of Britain's surfeit of gastropubs, fancy boutiques and good schools – as well as its new Waitrose – means it has been deemed "practically perfect".
For one unnamed resident, it was the arrival of Britain's poshest supermarket which finally sold him on the place: "Eight years ago, when Susie and I were thinking of moving here, I almost told her I couldn't do it because there wasn't a Waitrose. Luckily, one opened the year after we moved in."
The newspaper, which assesses data including crime rates, house prices and school performance along with residents' opinions, praises the city's good schools and its mixture of Georgian and medieval architecture, untouched by World War II. Films and TV series such as Les Misérables, The Da Vinci Code and Wolf Hall were all filmed in Winchester, taking advantage of its aesthetic appeal.
The city's mayor Angela Clear told the Winchester Daily Echo: "We are very lucky to have a city like Winchester, with brilliant schools, great food, spectacular countryside and a place we feel safe.
"But I have issue with the fact that Winchester has become a very exclusive and desirable place to live, which is pushing up the price of housing. We have to be careful not to build a moat around Winchester with a draw bridge to stop people from coming here.
"However, I can see why it was named as number one. Having lived here all my life I think has just about everything."
The regional winners of the survey are:
East: Orford in Suffolk
London: Fitzrovia in central London
Midlands: Ledbury in Herefordshire
North East: Harrogate in North Yorkshire
Northern Ireland: Ballycastle in County Antrim
North West: Whalley in Lancashire
Scotland: Stockbridge in Edinburgh
South East: Midhurst in West Sussex
South West: Falmouth in Cornwall
Wales: Penarth in Vale of Glamorgan