Among key features introduced in Windows 10 is Microsoft's next-gen browser, codenamed 'Project Spartan', which has been built for greater interoperability, reliability, and comes with a new look and feel.
A few of its advanced features include the ability to annotate web pages with digital ink or by keyboard, new reading view, display of articles in a simplified layout for better reading experience of web articles online and offline, and finally Cortana integration.
Project Spartan will be available on all Windows 10 powered devices such as PCs, tablets, phones and even the Xbox.
The January build (9926) has become available for Windows Insiders a couple of days ago. However, Spartan is not available yet and might appear in later builds. The Internet Explorer (IE) contains a new Edge document mode, which will be enabled by default for a limited number of testers. Check out the following steps if you want to manually enable the new rendering engine in IE11.
How to enable Experimental Web Platform Features
Open your Internet Explorer
Navigate to about:flags in the address bar
Enable the Experimental Web Platform Features
You should now have the latest rendering engine
Keep in mind that this is a pre-release software and enabling the feature will be at your risk.
Benchmark performance
AnandTech has conducted benchmark tests running a few apps, which show the Spartan browser crushing the older Internet Explorer 11 while offering faster speed.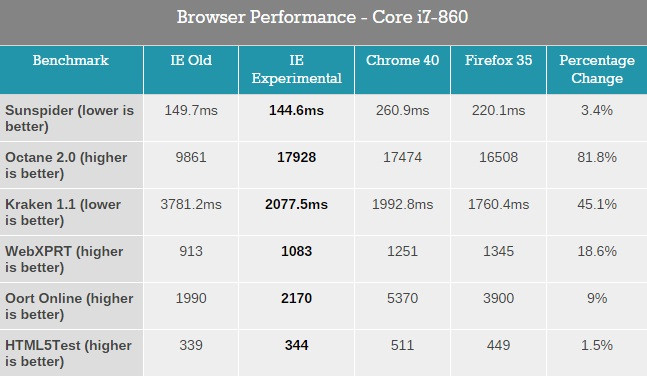 Along with the rendering engines, each browser comes with an ECMA Script engine to execute JavaScript. The JavaScript performance of the engine is very important to know how fast the web pages load.
The benchmark tests suggest that the JavaScript engine performance of Spartan is remarkable and places the new browser on par with Google Chrome.
The benchmarks include Sunspider, Octane 2.0, Kraken 1.1, WebXPRT, Oort Online and HTML5Test, in which Microsoft's new browser was compared against the older IE, Google Chrome 40 and Firefox 35.
Starting with the Sunspider test (in which lower points are considered better), the old IE was well optimised for the test and there were only marginal differences between the old browser and the new version.
The Google Octane test turned out to be terrible for the old IE and the performance of IE experimental was roughly as good as Google Chrome. In the rest of the benchmark tests also, the new browser scored better than the older IE11 version.
[Source: AnandTech]