The next Windows Phone 8.1 iteration could include Quick Text feature.
WMPoweruser which managed to lay its hands on Microsoft's Lumia 640 and 640 XL and Kyocera's devices confirms these devices run Windows Phone 8.1 Update 2. But the OS in Kyocera device is slightly different, a rawer OS version.
A new feature noticed on Kyocera's prototype device, unveiled at the 2015 Mobile World Congress event, has Quick Text on the keyboard.
In Windows Phone 8.1 Update 2 or GDR2 there is a button for copy and paste, which is hidden while not in use. Another button is the new Quick Text button.
Quick Text can be configured in keyboard settings. It allows picking a pre-defined phrase quickly and pasting it into any text input field. It seemed to have worked in the Internet Explorer and as a messaging app. A few phrases are already added, and there is an option to customise and add your own phrases.
Bluetooth keyboard support
The Update 2 will also add support for Bluetooth keyboards.
At the MWC event, Microsoft also unveiled a new foldable keyboard called "Universal Foldable Keyboard" priced at $99.95. The keyboard has been designed to work across all platform devices including iPad, iPhone, Android, Windows tablets and Windows Phone.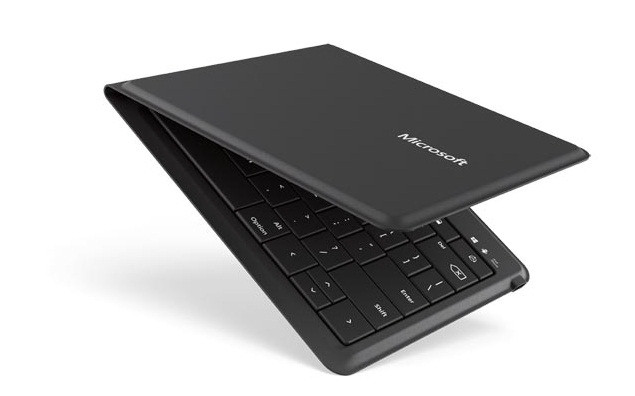 As noted in System requirements section in the product page, the keyboard is compatible with devices running operating systems such as Windows 8, Windows 8.1, Windows Phone 8.1 Update 2, Apple iOS7-iOS 8.1 and Android 4.3-5.0 Lollipop.