Withings Steel HR review: The subtle smartwatch
A sleek and subtle smartwatch for those who don't want a computer on their wrist.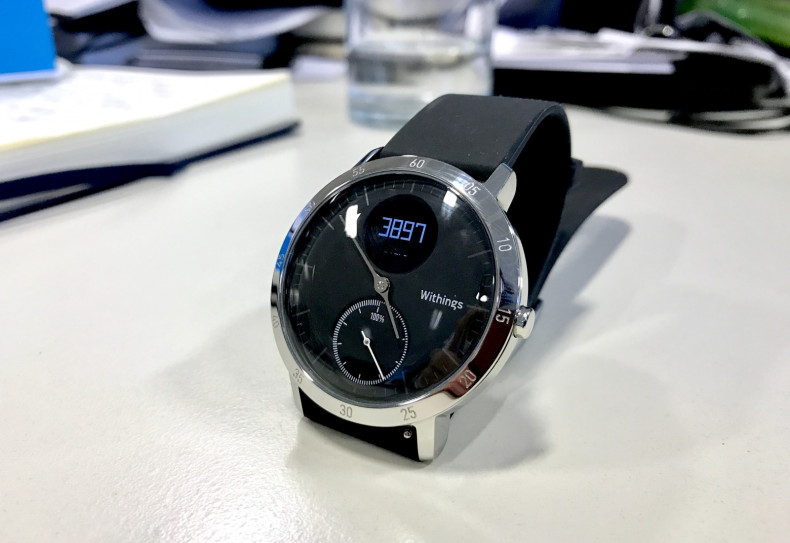 When it comes to computerised wristwear there are two options. One is a smartwatch like the Apple Watch or anything running Google's Android Wear, and the other is a hybrid where traditional, analogue dials sit in front of a Bluetooth connection and fitness-tracking sensors.
Withings, the French technology company recently bought by a resurgent Nokia, is a leader in the latter. First came the gorgeous Activité, followed by the Pop and now we have the Steel HR, which blends the designs of the first two then adds a heart rate monitor and digital display.
Here we are reviewing the larger 40mm model, which is priced at £179.95. It is available to buy now and is sold alongside a pair of smaller 36mm models available in black and white, priced at £169.95. The features of both models are the same.
Withings HR Steel: Design, display and dial
No need to beat about the bush here; Withings watches are beautiful. The Steel HR might not have the supple tan leather strap of the Activité (although it can be bought to fit the smaller 36mm Steel, for £70), but it inherits a similar stainless steel case and attractive simplicity. In a world of hugely complex smartwatches from Apple, Samsung and Google, it's refreshing to see a watch as simple as the Steel HR, yet which still offers the core features of its computerised counterparts.
Both versions are 13mm thick, but a heavy tapering helps to disguise this as the watch sinks subtly into your wrist. It fits comfortably under a shirt sleeve and at 49g minus the strap it is as light as any regular watch. Purely from its physicality there is no reason to assume this is anything other than a normal watch.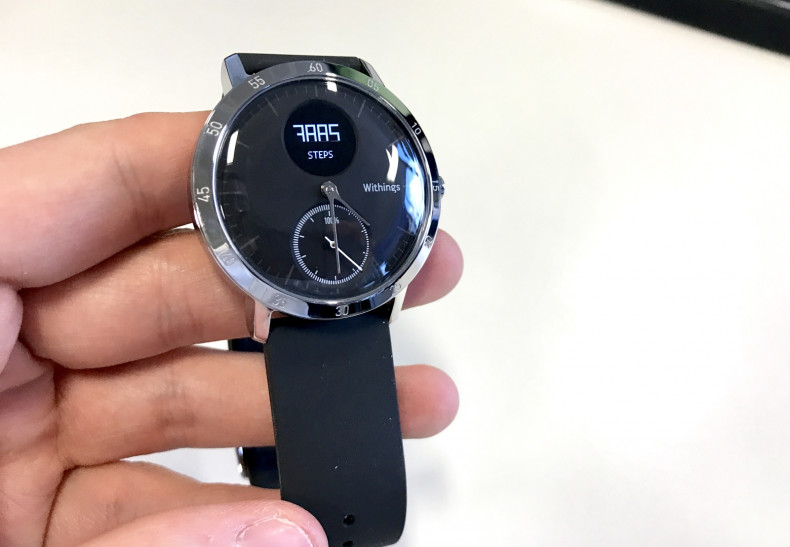 What makes the Steel HR unique in Withings' range is the circular digital display below the 12 o'clock position. This lights up when you press the crown at 3 o'clock (which isn't actually used to adjust the time) and cycles through the date and time (useful at night when the hands cannot be seen), your heart rate, steps taken that day, calories burned and battery life.
This list can be altered via the iPhone and Android app, which connects to the watch with Bluetooth. The app is also how you adjust the time and set a silent alarm, which wakes you up by vibrating the watch.
To save battery the display only lights up for a few seconds after each press of the crown, or to alert you of incoming calls, text messages and upcoming calendar events; for these notifications the watch also vibrates. Unfortunately, the Steel HR cannot hook up to other messaging platforms, so there are no alerts from Whatsapp or Facebook, which is a shame for those who have moved away from text and Apple's iMessage.
The digital display is bright enough and easy to read at a glance, but is more noticeable when blank than the marketing images might have you believe. The watch face is more grey than black, while the display is much darker.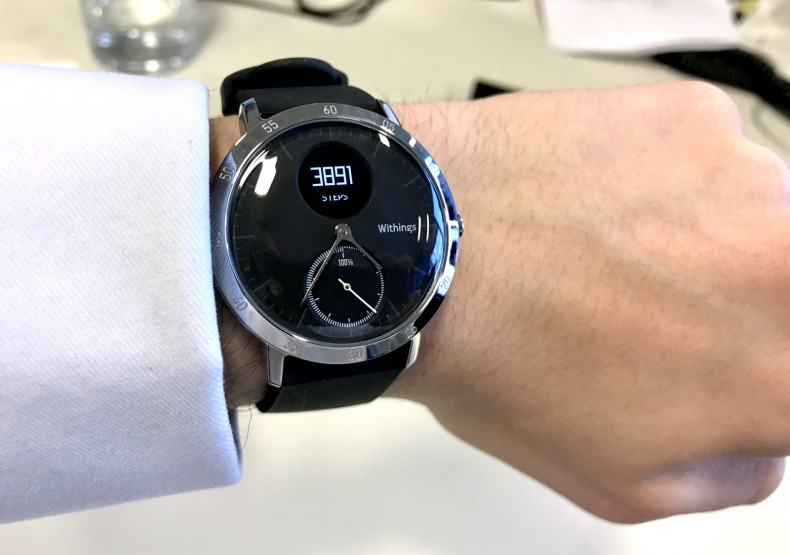 Below is the same 0-100 dial as seen on other Withings watches. This shows what percentage of your daily step target you have achieved.
Withings sells the Steel HR with a rubber strap which fastens with a regular buckle. There is a quick-release mechanism for removing it fro the case and any standard 20mm witch strap can be fitted. The smaller 36mm Steel HR accepts any regular 18mm straps.
Withings HR Steel:
App, performance and battery life
As with all Withings products, the Steel HR connects to the company's health application, available on iOS and Android. This is where you set the watch up (it automatically changes time when your phone does, or can be adjusted manually), and where data collected by the watch ends up. Your heart rate is taken several times per day and the watch automatically recognises and logs any walking, running and swimming.
While this is all welcome, the Steel HR lacks GPS to track your runs, even if you bring a phone with you, so there's no way to plot where you have been, only the distance covered.
If you are doing a general workout or any other form of exercise, a long press of the crown button begins workout mode. This starts a timer and provides continuous heart rate monitoring until you press the button again to stop.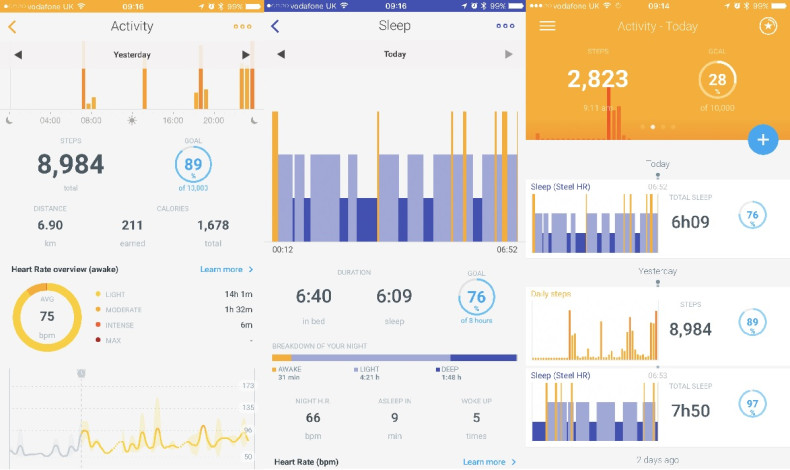 Sleep is also tracked and presented on a graph the next morning showing when you were in light sleep, deep sleep and awake during the night. We found the Steel HR's results to be consistent with other sleep apps and the heart rate monitor's results are almost identical to that of Withings' smart bathroom scales.
The app is an attractive way of seeing an overview of your daily routine, especially when you combine it with the scales and the company's more advanced sleep tracker. But as with any fitness product like this, while the data is nice to view it isn't immediately clear what one should do with it. The app's 'help centre' offers some general advice on sleep and activity, but the information it provides is basic and generic – it isn't personalised to your own dataset.
Minor annoyances
Another minor annoyance is how the app only works with one Withings watch at a time. We already own an Activité so had to remove it from the app to add the Steel HR; keeping one watch for exercise and one for work or smarter occasions isn't possible.
But ignoring these gripes still leaves an attractive hybrid smartwatch which neatly blends a classic design with modern technology. For those who want to keep tabs on their daily steps, sleep, swimming and running (but who don't need their hand holding when it comes to interpreting the data) then the HR Steel makes a strong case for itself.
Battery life is claimed to be "up to" 25 days, plus another 20 on power reserve mode, which switches on automatically when the battery runs low and limits the watch to showing the time and percentage of daily activity completed.
We found battery depletion to vary from 2-3% per day to 8% depending on what we were doing. Recharging takes one hour to 80% and two hours to 100%. The charger itself feels cheap compared to those made by Apple and Samsung. There's no real magnetism to it so placing the watch on it correctly is frustrating.
The Withings Steel HR is a lovely looking timepiece and to some watch fans will be worth its £179.95 price tag even without bringing its smartness into account. Add in the activity tracking, notifications, silent alarm and the Withings app and ecosystem, and the Steel HR quickly becomes a mighty fine wearable.
It isn't perfect though. Although it isn't too expensive for a stylish watch, it is pricey compared to other fitness trackers, so you'll have to ask yourself if you see enough value in the hardware and software design to overcome some shortfalls of its feature set.
That being said, we enjoyed using the HR Steel and feel it strikes a good balance between technically smart and aesthetically smart.