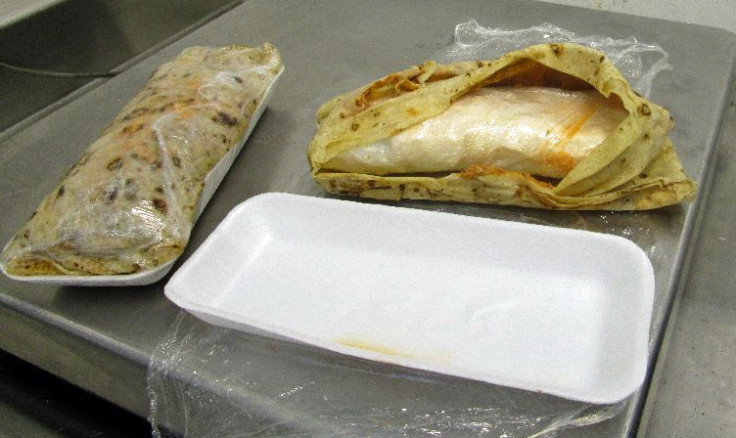 Two packages crudely disguised as Mexican fast food, were found to contain more than a pound of meth, according to Customs and Border Protection officers. Drug-sniffing dogs alerted officials to the presence of the narcotics inside of the bag containing methamphetamine.
Border patrol became suspicious of a 23-year-old Arizona woman and questioned her when she crossed through the border at Morley Pedestrian Gate on 20 May. Susy Laborin was "carrying a plastic bag containing burritos," according to a US Court District complaint. But when a Customs and Border Protection officer examined the snack, the investigator discovered a bag of meth "concealed in the shape of a burrito."
The woman later told authorities she was hired as a mule who had been offered $500 to take the drugs across the US-Mexico border to someone in Tucson, where she would deliver them to an unknown third party. Agents said the narcotics were valued at more than $3,000 (£2,046).
The arrest was one of a number of raids made on the Nogales border, with a sum total of around $929,000 worth of narcotics, the Customs and Border Protection (CBP) said in a statement.
Five other men and one woman were arrested after they had tried to smuggle significant amounts of cocaine, meth, and heroin in their vehicles. These included officers at the Dennis DeConcini crossing detained a 45-year-old Mexican national male for a second inspection of his Chevrolet. When searching the dashboard area, officers located nearly 28 pounds of cocaine. The drugs are valued at more than $311,000.
Other vehicles were searched and sniffer dogs again found drugs in a tailgate, where officers removed more than 27 pounds of meth, worth nearly $82,000, as well as more than three pounds of heroin, with a value of $54,000.
"The most significant drug trafficking organisations operating in the United States today are the dangerous and highly sophisticated Mexican transnational criminal organizations (TCOs) that continue to be the principal suppliers of cocaine, heroin, methamphetamine, and marijuana," the DEA's acting chief Chuck Rosenberg said in the 2015 National Drug Threat Assessment.