A domestic abuser who stabbed and bludgeoned his Muslim convert wife to death with a claw hammer before dumping her body and setting it alight has been found guilty of murder.
Akshar Ali, who had a history of domestic violence, launched into the attack on Sinead Wooding with the aid of accomplice Yasmin Ahmed in Leeds, West Yorkshire, on 11 May.
The pair had denied murder but were convicted after a trial at Leeds Crown Court concluded on Tuesday (16 January).
The court was told that Wooding, 26, was in a kneeling position in Ahmed's cellar, in Reginald Mount, Potternewton, when she was struck with the hammer after forensic evidence showed blood spots on the wall.
The pair, both 27, tried to cover up the killing by wiping down the walls and covering up a large bloodstain in the centre of the floor.
The court was told that the mother-of-four was stabbed around six times and left in the cellar for two days before a man and a woman were spotted carrying "what appeared to be a body" from Ahmed's home.
A neighbour saw two people carrying the body which was wrapped in a duvet and placed in the boot of the car on 14 May before it was dumped in woodland and doused with petrol.
Her remains were discovered the next day by a group of students who were out for a jog in Alwoodley Crags.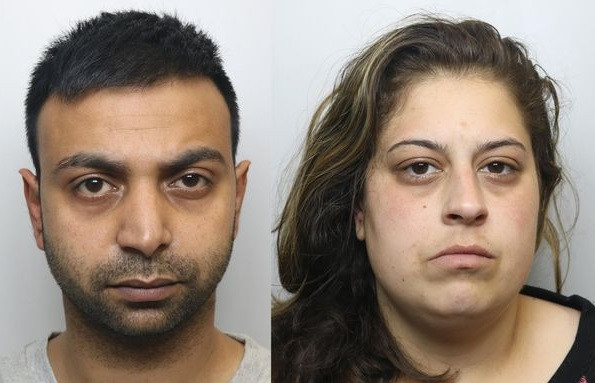 Ali was described during the trial as a "woman beater" who banned Wooding from seeing her family and pestered another woman for sex days before Wooding's murder, reported BBC News.
The court was told that Wooding had made a 999 call to West Yorkshire Police the night before her murder but when police arrived three days later she was already dead.
As a result West Yorkshire Police has referred itself to the Independent Office for Police Conduct.
Vicky Briggs, 25, of Leeds, was found guilty of assisting an offender by helping clean up and burn material after the killing.
Ali's mother, Aktahr Bi, 45, and Ali's brother, Asim Ali, 21, were found not guilty of assisting an offender.