A woman has been killed and five other people injured in a mass stabbing incident near the British Museum in Russell Square in central London on Wednesday evening (3 August). A 19-year-old man has been tasered and arrested by police.
Emergency services were called to Russell Square at 10.33pm local time following reports of "a man in possession of a knife injuring people". The woman, who was in her 60s, was treated at the scene but was pronounced dead shortly after. Another two women and three men suffered various injuries in the knife attack.
In a statement issued soon after the incident, the Metropolitan Police said: "terrorism remains one line of inquiry being explored." No other details are immediately available on either the victims or the attacker.
Mayor of London Sadiq Khan urged all Londoners to "remain calm and vigilant" after the attack.
The Metropolitan Police Service's Homicide and Major Crime Command is investigating, supported by officers from the Counter Terrorism Command. The suspect is being held in custody in hospital, police said in a news conference held at 3.30am on 4 August.
Assistant Commissioner Mark Rowley, from the Metropolitan Police, said: "This was a tragic incident resulting in the death of one woman and five others being injured. Early indications suggest that mental health was a factor in this horrific attack. However we are keeping an open mind regarding the motive and terrorism remains one line of inquiry being explored.
"As a precautionary measure, Londoners will wake up this morning to notice an increased presence on the streets of officers, including armed officers today. We would urge the public to remain calm, alert and vigilant."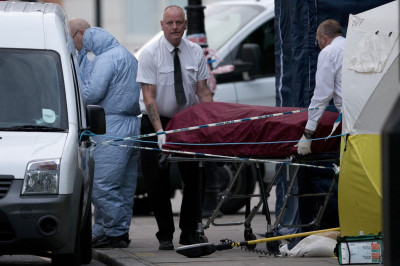 A London Ambulance Service spokesperson said: "We were called at 10.33pm last night (3 June) to an incident in Russell Square, WC1. We sent a number of staff to the scene, including four ambulance crews, a responder in a car, an advanced paramedic and two officers.
"A medical team of a doctor and paramedic from London's Air Ambulance also attended by car. Our first staff arrived at the scene within seven minutes. Sadly, despite extensive treatment one woman was pronounced dead at the scene.
"Our staff also treated a further five people who had been injured during the incident, three men and two women, who were all taken to hospital."
Witness accounts
A caller to the BBC Radio London said that he was at the Bloomsbury cinema with his girlfriend when he saw police. "We came around the corner and there were armed police everywhere ... a massive police presence ... and a corpse lying in the street covered in a blanket."
News of the attack went viral on Twitter with some pictures taken by passers-by being posted.
A resident in the area, Susanna Cappellaro tweeted, thanking the Metropolitan Police for being so fast and efficient in handling the situation.