Stunned passersby looked on in shock as a woman went to extreme measures to confront a "sex pest" on the street in Brazil.
The incident in Ribeirao Preto city centre was videoed as the young sales woman who was handing out flyers, began berating the man.
While the man protested his innocence she continued to shout at him telling the pest she is fed up of being 'touched and sexually harassed while just doing her job.'
As he tries to deny the allegations she says: "I'm fed up being treated like a sex object. Is it boobs you want?"
She suddenly pins him down and slaps him across the face repeatedly. Straddling him, she pulls off her t-shirt and rubs her exposed breasts in his face.
A crowd of shoppers looked on bewildered at the scene with many defending the alleged assailant claiming he 'was out shopping with his wife and has done nothing wrong' and calling on the woman to stop.
Some berated her for making such a scene in public and expressed their outrage shouting: "This is absurd, there is no justification for doing this. How can you do this in front of children in the city centre? You're disrespecting women with your actions."
Some onlookers supported her saying her bold actions had 'humiliated and exposed the attacker' in just the same way that she had been humiliated by his crude retorts.
But all was not as it seems. It later emerged that the incident had been staged by a theatre group as part of an anti-harassment campaign.
The stunt was designed to highlight the unwelcome attention that women suffer in everyday life and in the workplace and to demonstrate sexually explicit language can quickly turn into a physical assault.
Fausto Ribeiro, director of the Confluências group, the creators of the piece told Mail Online: "We wanted to expose and address something that happens every day to our sisters and female friends.
"This was meant to challenge people's perceptions and empower women with the shock tactic of retaliation. We wanted to force men to think more responsibly about their actions and the consequences."'
The high street company, whose T-shirt the actor was wearing, denied any involvement in the incident. In a statement the business said: 'There was no involvement of any employee or representative in this theatrical action.'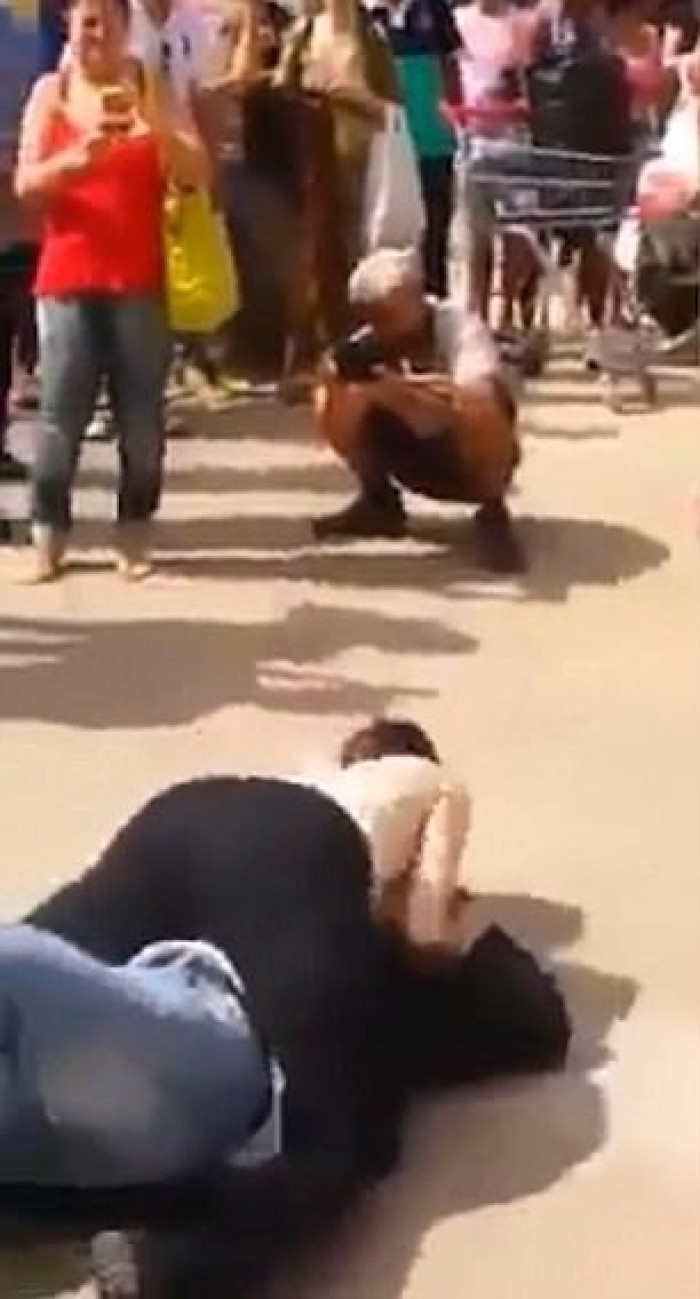 The video, which was posted online last year, was widely circulated garnering over a million views but was withdrawn after it was heavily criticised for its bold content. The video has now been re-posted to make a statement amid the ongoing Hollywood sex abuse scandal.
At least 40 women have accused movie producer Harvey Weinstein of sexual assault and rape. Oscar winner Kevin Spacey issued an apology after Star Trek actor Anthony Rapp alleged that the American Beauty star made sexual advances to him when he was just 14- years-old.
The latest film personalities to face accusations of sexual impropriety include Tootsie star Dustin Hoffman, and film producer Brett Ratner.
As the Westminster harassment scandal deepens. this evening Defence Secretary Sir Michael Fallon resigned. The Tory MP conceded his behaviour in the past had "fallen short" after he admitted touching broadcaster Julia Hartley-Brewer's knee 15 years ago.