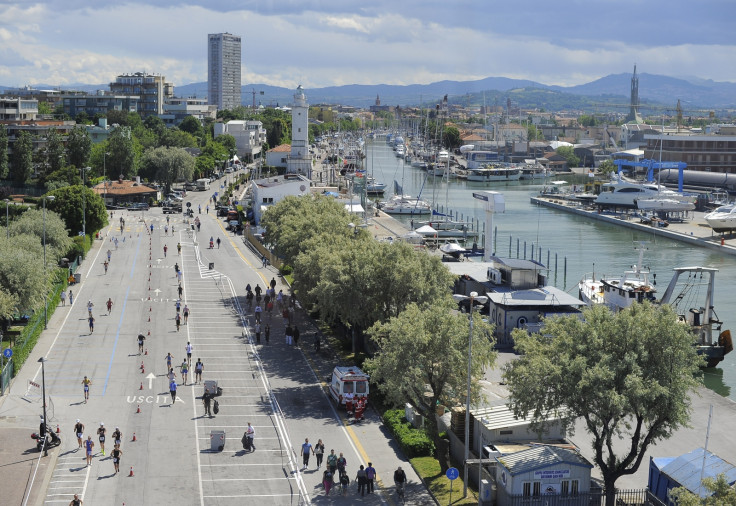 A body found in a suitcase in Italy is not that of a Chinese woman who went missing from a cruise ship last month, an autopsy has revealed.
The emaciated state of the body suggested the cause of death may be starvation or an aggravated form of malnutrition.
Investigators have excluded the cause of death being asphyxiation or drowning, and the absence of visible signs of violence also exclude the possibility of the woman starving as the result of prolonged captivity, according to various reports on local media quoting the autpsy findings.
The body of the Asian woman was found curled up inside a bin bag in a blue suitcase recovered from the harbour in Rimini, a town on the Adriatic coast of Italy and a popular tourist destination, on 25 March.
It was initially thought it may be the body of the 36-year-old Xing Lei Li, whose husband Daniel Belling, a German-born IT consultant who worked for Apple among other clients, is under arrest in Rome accused of her murder and of throwing her body overboard in a suitcase.
This hypothesis appeared unlikely due to the difference in height between the women and the location of the suitcase, discovered around 1,200 km (745 miles) from the path followed by the cruise ship, which sailed from the western coast of Italy to Greece and back.
The autopsy revealed the body found in the suitcase has been in the water for no more than a week, less than the 10 days previously hypothesised, although the woman's death may have occurred 15 days ago.
Italian investigators will now seek to establish the woman's identity and the circumstances surrounding her death.