Two women, an Indonesian and a Vietnamese, who are the only two people charged in the murder of North Korean dictator Kim Jong-un's estranged half-brother, Kim Jong-nam, will go on trial from 2 October, the Malaysian High Court said on Friday (28 July).
Indonesian Siti Aisyah, 25, and Doan Thi Huong, 28, from Vietnam, allegedly assassinated the Kim Jong-nam at Kuala Lumpur International Airport on 13 February. They allegedly smeared a deadly toxic VX nerve agent on Kim Jong-nam's face as he waited to board a flight to Macau.
Both the women were handcuffed as they appeared in the court in the Malaysian capital, Kuala Lumpur on Friday, where their trial date was set.
Judge Azmi Ariffin said the estimated the trial could last for two months.
Aisyah reportedly broke out in the courtroom as her lawyer debriefed her about the trial proceedings.
Her lawyer Gooi Soon Seng told reporters outside the courtroom that the Indonesian was increasingly anxious as the judge announced the trial date. He added that she had "no guilty intention" towards Kim, 9News Australia reported.
Huong's lawyer Hisyam Teh Poh Teik also said a day earlier that his client was a "bit anxious about the trial, but she feels confident. She knows she is innocent."
At the hearing, police handed over all the evidence, including CCTV footage of the incident to the lawyers of the two women, the Australian news portal said.
The CCTV footage was released in the aftermath of the killing. But it "did not show Siti Aishah applying anything, it just shows her walking away," Gooi was quoted as saying.
The prosecutors had earlier requested the Malaysian court to try both the women jointly on grounds that the incident took place at the same time and place.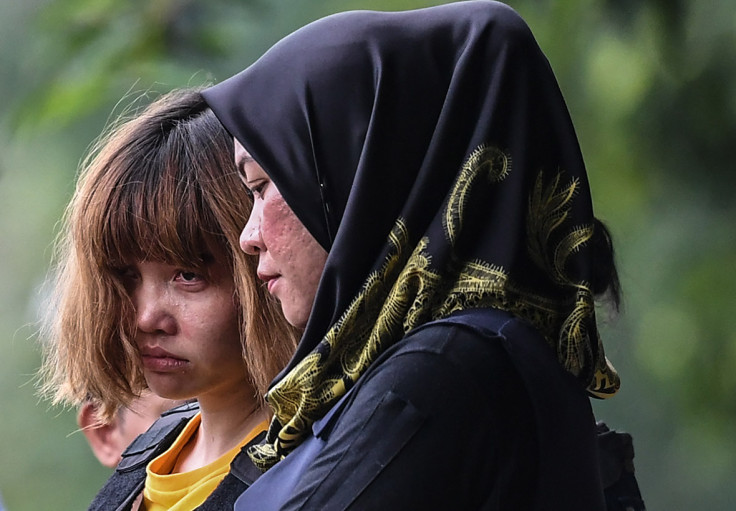 At the hearing on Friday, Deputy Public Prosecutor Muhamad Iskandar Ahmad said he would be calling 30 to 40 witnesses, including 10 experts, to testify, Malaysia's The Star Online reported.
If proven guilty of murdering Kim Jong-nam, Aisyah and Huong could face the death penalty.
Soon after their arrest, Aishah and Huong claimed they were unwitting pawns in the assassination, which the US and South Korean intelligence believe was orchestrated by Kim Jong-un or his agents. The chemical weapon that the women allegedly used on Kim Jong-nam is listed by the UN as a weapon of mass destruction.