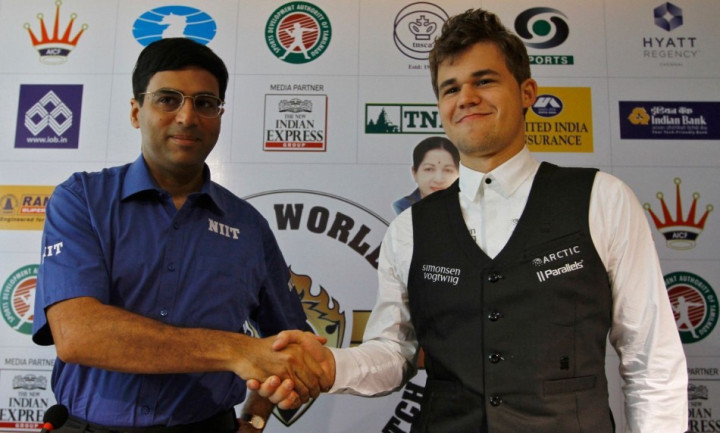 Click here to read Game 7 report
Round 7 of the 2014 World Chess Championship between reigning champions Magnus Carlsen and Viswanathan Anand will take place at the Main Media Center in Sochi on Monday.
Where to Watch Live
Play starts at 12pm GMT. Live coverage of Game 7 will be available on the official FIDE website.
Overview
Carlsen and Anand both blundered in the last game and it was the Indian who had to pay the heavy price as he lost his second game of this year's World Chess Championship. After Game 6, there was a rest day on Sunday and Game 7 will resume on Monday.
After having completed half of the games, Anand is trailing the World No 1 by a point. So far, all the games that have been won this year in Sochi was with white pieces and Carlsen will once again continue with white on Monday.
Anand will be hoping the rest day will help him to recover after a disappointing loss over the weekend. A win for him would be a mental boost as he will play Game 8 with white pieces. However, a defeat on Monday will only put more pressure on the Indian chess Grandmaster to clinch his second World Chess Championship title.
What Experts Say
Susan Polgar: "Playing white has a huge advantage because you will have a better chance to dictate the type of positions which favour you. Unfortunately for Anand, the loss in game 6 is devastating. It is not only that he lost, the way he lost made it harder. The momentum has shifted to Anand, while it was on Anand's side after game 3."