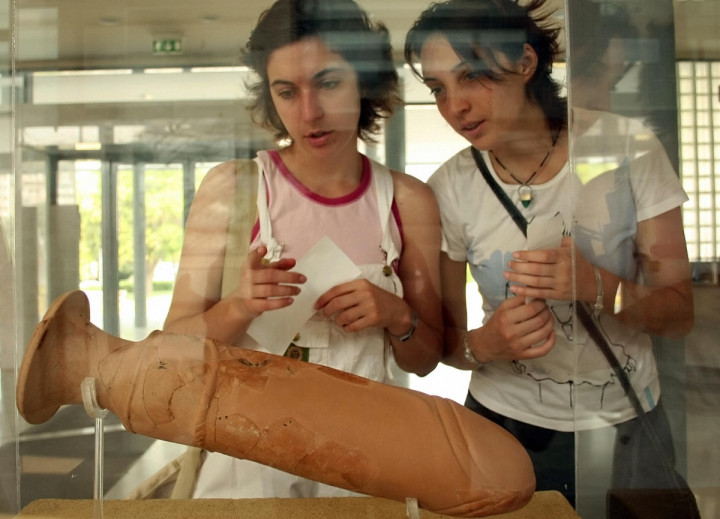 Phalluses and racy messages carved in to a rock in a remote Greek location, may be the world's oldest erotic graffiti, according to archaeologists.
The inscriptions, in Astypalaia's rocky peninsula at Vathy, date to the fifth and sixth centuries BC, before the Acropolis was built in Athens.
Dr Andreas Vlachopoulos, who began fieldwork on the Aegean island four years ago said the inscriptions provided invaluable information about the private lives of Ancient Greeks.
He described them as "monumental in scale" in an interview with the Guardian.
"They were what I would call triumphant inscriptions," he said. "They claimed their own space in large letters that not only expressed sexual desire but talked about the act of sex itself. And that is very, very rare."
Carved into the limestone of the dolomite outcrop, many of the inscriptions are frank and celebrate homosexual desire.
"Nikasitimos was here mounting Timiona (Νικασίτιμος οἶφε Τιμίονα)," reads one inscription.
"We know that in ancient Greece sexual desire between men was not a taboo," said Dr Vlachopoulos.
"But this graffiti… is not just among the earliest ever discovered. By using the verb in the past continuous [tense], it clearly says that these two men were making love over a long period of time, emphasising the sexual act in a way that is highly unusual in erotic artwork."
Dr Vlachopoulos speculated that a garrison may have been stationed nearby.
"We know that Greek islands were inhabited by the third millennium BC, but what we have found is evidence that, even then, people were using a coded language of symbols and imagery that was quite sophisticated," said Dr Vlachopoulos.
The epigrapher, Angelos Matthaiou, said that the inscriptions also showed that ordinary people on the island were literate at a date earlier than archaeologists previously believed.
"Whoever wrote the erotic inscription referring to Timiona was very well trained in writing," said Matthaiou.
"The letters have been very skillfully inscribed on the face of the rock, evidence that it was not just philosophers, scholars and historians who were trained in the art of writing, but ordinary people living on islands too."