The first batch of screenshots for 2K Games' WWE 2K17 seem to have leaked online, confirming that Chris Jericho, Brie and Nikki Bella and Jimmy and Jey Uso will all feature in upcoming World Wrestling Entertainment (WWE) game due this October. The fresh additions appear to show off the in-game character models for the first time, with previous roster reveals featuring 2K Games' fiery brand of promotional art.

Judging by the quality of the screenshots, they appear to have been taken from the Xbox One / PS4 version of the game, rather than the PS3 and Xbox 360 editions.
Alongside the newly "confirmed" WWE Superstars, the game's cover star, Brock Lesnar, is also pictured looking suitably menacing while walking out onto the stage at Wrestlemania 32 (which also appears to confirm the stage will return after featuring in 2015's WWE 2K16).
Chris Jericho's cool dad-chic is particularly impressive, although from the looks of it, Brie Bella's model fares better than her sister's, with Nikki's face looking a tad vacant.
For previous games in 2K's WWE series, developer Yukes used scanning technology utilising multiple cameras to accurately capture the likenesses of many of the WWE Superstars. It is unknown whether the wrestlers in this first wave of images are scan-captured, however.
Judging by the watermarks (except for the Lesnar screenshot), this first collection of images were seemingly intended as part of IGN's upcoming, five-week-long "Roster Reveal" (via The Smackdown Hotel).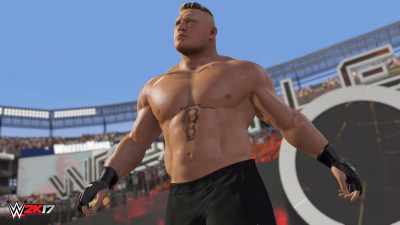 With the McMahon family and several NXT Superstars also unveiled recently, the cast of larger-than-life grapplers for WWE 2K17 is slowly beginning to take shape, however there are a few roster members that are exclusive to pre-order customers and collector's editions at launch.
In June, WWE and 2K Games announced that WCW legend Goldberg will act as the game's exclusive pre-order bonus character. The WWE 2K17 NXT Edition, which will retail for £79.99 and be exclusive to Game in the UK, will be the only version of the game to include Shinshuke Nakamura, Nia Jax and Apollo Crews. The trio will be available to download via paid DLC due "later this year."
WWE 2K17 is set for release on Xbox One, PS4, Xbox 360 and PS3 on 11 October 2016