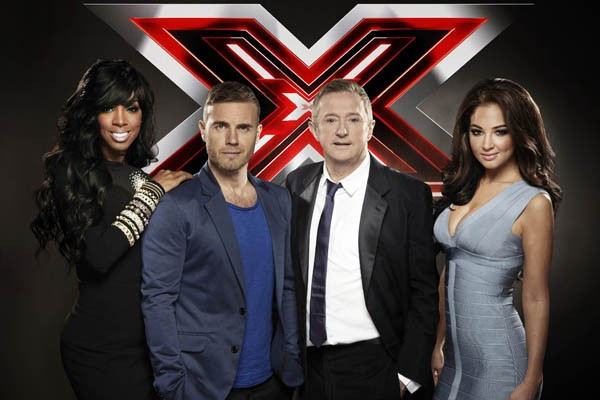 The X Factor is back on TV screens this Saturday and with brand spanking new judges Kelly Rowland, Tulisa Contostavlos and Gary Barlow, joining Louis Walsh, stories of makeover and Bootcamp already underway we thought we do a quick catch-up in time for the new series.
The Judges
Louis Walsh was initially reportedly thrilled to hear that Simon Cowell was no longer a judge; it seems he's had a change of heart. Walsh has admitted he is missing having Simon Cowell following the X Factor supremo's departure from the judging panel, even if it does mean the show operates a bit more punctually.
"I do miss the fun with him because we are such good mates, even if I hate to admit it," Louis said, quoted the Mirror.
Gary Barlow is one of three new judges and is reported to have assumed the role of head judge, filling Simon Cowell's seat baring resemblance to the former head's brutal honest behaviour.
"On day one, Gary stole my head judge mug and sat in Simon's old seat" said Louis Walsh to the Mirror.
Kelly Rowland, new female judge is the former Destiny's Child signer believes she can perform, and win, with whatever category she is given and said: "I am confident that I can do well in all categories because the talent is there" quoted the Mail Online.
Tulisa Contostavlos also a new female judge is lead singer of one of the most successful urban British hip hop group, N-Dubz. Tulisa has had eight top 40 hits, a sell-out tour, album sales of over 1.2 million and has won four MOBO awards.
"I love the fact we're changing people's lives. I love that it's all about music, and I can put the knowledge I've learnt to good use and help people" quoted Btlife.
Makeovers
Tulisa Contostavlos has rapidly undergone a drastic makeover in the run up to the hit singing competition.
The N-Dubz singer has transformed into an A-lister with a healthy eating plan and also splashed out £9,000 on a new look courtesy of celeb stylist Gemma Sheppard, who's worked with Alexandra Burke and Dannii Minogue, reported Now magazine.
Meanwhile, Destiny's Child singer Kelly Rowland appeared to be channelling Dannii Minogue after her makeover, as she posed in a plain black dress similar to the kind Dannii used to wear. Even her pose was very Dannii Mk II.
Gary Barlow paid homage to Simon Cowell by leaving a glimpse of chest hair poking out of his open shirt, just like the media mogul.
The only remaining original judge on the panel, Louis 58-year-old retained his trademark look in a plain black shirt and jacket.
Bootcamp
Bootcamp seems to be harsher than ever, as even before the contestants had a chance to showcase their talent, new judges Barlow, Tulisa Contostavlos, Kelly Rowland and Louis Walsh gave a number of hopefuls the boot on the spot, reports Marie-Claire.
Thirty-five X Factor contestants who travelled to London for boot camp were told by judges Louis Walsh, Gary Barlow, Kelly Rowland and Tulisa Contostavlos that they were going home straight away.
Some of the hopefuls had come from as far away as Scotland to the boot camp venue in south London, only to be told that they were being axed from the competition without even getting the chance to sing for the judges.
Fellow judge Kelly then explained that they had been planning who to kick out of the competition the night before: "While you were partying last night, we were looking at your audition tapes."
Take That star Gary was the one to break the news to the contestants, saying: "We don't believe everyone standing in front of us has the potential to make it all the way in this competition" quoted The Sun.
An X Factor insider told the Sun: "It was total carnage - a thunderbolt from the blue. All were partying away on Sunday, knocking back free grog and boasting they'd be the next winner.
"Next morning many were in tears after getting the push. Even Simon Cowell wasn't this brutal."
Launch
The X Factor launches this Saturday, August 20 at 8pm on ITV1 and the boot camp stage of the competition is expected to begin airing in several weeks.