Microsoft has stated rolling out a major update featuring several changes and improvements for the Xbox One.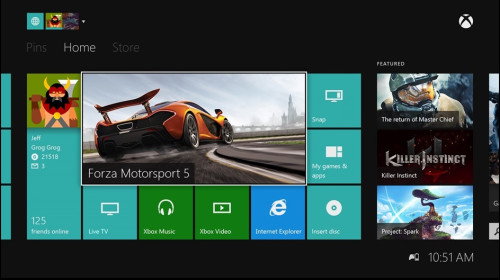 Last December, Microsoft released a required system update for its latest gaming console with a number of fixes such as SmartGlass issue, inconsistent notifications and multiplayer issue when re-joining games.
Now, the company has made another update available for the console, providing an Instant-On feature, a low power state that allows instant power up of the console by just saying Xbox On. The console will automatically check for the update when it is turned off.
The new update will make it easier for users to find how much space the content takes up and better manage the content. It also enables users to control their install lineup and easily manage their download queue.
"We've separated My Games and My Apps into separate lists, so you can easily create separate queues for both. Now you can pick the order in which you want your content to load and we've added a boot progress indicator so you can better track updates while they load," explains the Major Nelson blog.
Gamers will also be able to use USB keyboard with the Xbox One. The update brings back the battery power indicator. Hence, users can easily keep track of how much battery life is left on the controller. Besides, the update integrates several notable changes.
What are update features
Ability to delete game and application save data
Improved installation and DLC management
Improved UI for accessing friends, achievements, messages, and party chat
Game DVR app to be included in the Xbox OneGuide as an app channel
Update to the boot progress indicators for system update
Improve consistency of UX for update & install progress
Separate game, application, and install queue lists
Addition of USB keyboard support
Improved NAT detection
Network Troubleshooter improvements
Blu-ray quality improvements
Significant performance and stability improvements
Note: Once the update is installed, you can press the Xbox button to see the battery indicator on the screen at the lower right, next to the clock.
Those who wish to keep update their console with the latest Dashboard updates may follow our guide, courtesy of WCCFtech.
Microsoft does not allow gamers to download software update for a drive and update the console. You need to have your console update its software. The Xbox One automatically checks for the latest update if the console's Instant-On mode is turned on.
How to update Xbox One
Step-1: Press the Guide button on your controller. Or, say Xbox, Go Home, if you have your Kinect 2 sensor plugged into the console
Step-2: Select My games & apps. Alternatively, say Xbox, go to My Games and Apps
Step-3: Select Settings, with a controller, select Power and start up from the list of setting options in the center of the screen
Step-4: Navigate to Power Options>> select Power Mode if it is currently se to Energy Saving. You need not do anything, in case it is already set to Instant-On
Once this is checked, your console will download the update automatically and ask your permission to install it.