For Microsoft, Xbox One X is the latest step in a long recovery, if not in terms of closing the gap on Sony and the PS4, then certainly in rebuilding the Xbox name.
Microsoft has been playing catch-up ever since it first pitched Xbox One to the world more than four years ago, and the overwhelmingly negative response to the company's vision resulted in some spectacular back-peddling.
A changing of the guard at Xbox - with Phil Spencer replacing Don Mattrick as boss - was an implicit admission that the reveal had been a disaster. Meanwhile Xbox One quickly fell into second place behind a resurgent PlayStation.
As PS4s flew off the shelves, Spencer spearheaded a recovery that aimed to put games and players first. This gave loyal fans PC cross-platform support, extensive backwards compatibility, and now the Xbox One X.
Last year Sony announced PS4 Pro: a more powerful hardware iteration that improves the visual fidelity of PS4 games, outputting them to an upscaled 4K resolution. Reports indicated however, that Microsoft had something even beefier up its sleeve.
Since it was first announced as Project Scorpio, Xbox One X has been touted as "the most powerful console ever", and it certainly lives up to that billing.
Under the bonnet are a whole lot of impressive numbers - the details of which won't matter to most - in a console that can run games in a native 4K resolution, while also supporting High Dynamic Range (HDR) imaging. Some games will also be able to run at 60 frames per second as well, including first party titles.
The difference between native 4K and upscaled 4K is that the former is true 4K while the latter uses tricks such as checkerboard rendering to achieve similar, but lesser results. The differences in practice are slight to the untrained or uncaring eye however.
Not every game that supports Xbox One X will be rendered in native 4K, some too will be upscaled, but Xbox One X is better equipped than PS4 Pro to deliver this, meaning whether or not a game does is down to individual developers and publishers rather than Microsoft.
What matters is the difference between 4K and the 1080p standard of regular Xbox One and PS4 consoles, and that difference is huge. That's no revelation - of course it looks better - but Xbox One X owners who haven't sampled 4K before will be blown away by the visual leap.
Even those without a 4K television will notice a difference, not just to games offering support, but every game - even backwards compatible original Xbox and 360 titles. One X improves performance across the board visually and by shortening load times.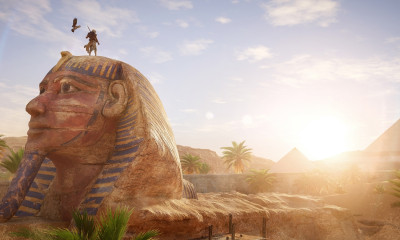 Xbox One X is a well built machine that offers the best visuals of any console. The only problem with the hardware itself is the 1TB harddrive, which already feels small considering some AAA titles with 4K support weigh in at over 100GB. Otherwise, the bulk of One X's problem are those of Microsoft, and the legacy of Xbox One.
The original Xbox One was a terrible device. For a long time following its release it had a woeful user interface (UI), third party titles played and looked better on PS4, its catalogue of games had no real chart-dominating must-haves and it wasn't at all well-conceived or designed.
Last year's Xbox One S was a huge improvement, offering a new base console that was better made and offered support for HDR and 4K Blu-Rays (as does the One X). It went on sale as Microsoft continued to improve the console's UI - moving further away from the Kinect-dependant horror show it launched with - but still the console lacked exclusives.
When it comes to potential system-sellers, last year saw only Gears of War 4 and Forza Horizon 3 and this year there's Forza Motorsport 7. I'm sorry Super Lucky's Tale... but no. The only exclusive Xbox One has that people are excited about is PlayerUnknown's Battlegrounds, and that's only exclusive for a limited time.
PUBG has been a phenomenon on PC, and so has garnered significant interest among console players, but as a sometimes ropey early access title it isn't exactly the game to sell "the most powerful console ever". It is at least a reason to buy an Xbox, even if it isn't a One X.
Microsoft's hopes for Xbox One X are being pinned on those players who want the absolute best visual experience for third-party games like Call of Duty, Star Wars Battlefront, Assassin's Creed, Wolfenstein 2 and many more.
On that front, it truly delivers, but how many of those players - who most likely already own a console capable of playing those games - have £450 to spend on the device, and even more if they want a 4K television to get the best out of it?
Our verdict
Xbox One X is a remarkable piece of hardware, but it isn't a console for 2017. It's hardware for the future that serves Microsoft's continuing recuperation plan. All Microsoft needs are games that make players as excited as PlayStation exclusives like Spider-Man and The Last of Us: Part 2, but currently there is nothing like that on the horizon, bar Sea of Thieves.
The reality for Microsoft is that this current generation has long-been lost. The Xbox division can do everything it can to thrive in second place and claw back some ground, but ultimately the goal should be to set up for the next generational leap forward, whenever that may be and whatever form it might take.
Xbox One X is a sure sign that Microsoft is ready for that, but what exactly does it offer players right now? It's a console targeting a very small audience of players who want the very best performance but don't own a PC, but even then it simply doesn't yet have the software support it needs to justify its own existence.
However, the console's problems are largely separate from the hardware itself, which is impressive and absolutely delivers on its promise. Its release doesn't address Microsoft's wider problems, but as a product it is of the utmost quality.