Chinese smartphone maker Xiaomi has issued an official statement about the temporary suspension of its smartphone sales in India following a court ruling related to patent infringements brought by Ericsson.
In an official post to the Xiaomi website and Facebook page, the company's Vice-President of International, Hugo Barra has apologised to Mi Fans:
We have been committed to continue our sales of Redmi Note and Redmi 1S devices in India. In the last 2 days alone, we received over 150,000 registrations for Redmi Note on Flipkart and the momentum has been terrific.

However, we have been forced to suspend sales until further notice due to an order passed by the Delhi High Court. As a law abiding company, we are investigating the matter carefully and assessing our legal options.

Our sincere apologies to all Indian Mi fans! Please rest assured that we're doing all we can to revert the situation. We have greatly enjoyed our journey with you in India over the last 5 months and we firmly intend to continue it!
The Delhi High Court, on 8 December, passed an injunction order against Xiaomi, for the company's alleged infringement of patents by Sweden-based Ericsson.
As per the injunction order, Xiaomi will have to stop selling smartphones in India temporarily. The China-bred company is also required to refrain from either advertising or importing handsets whose designs infringe upon patent designs registered by Ericsson.
However, the exact length of time that the Delhi High Court injunction will stay in place is not known, but according to a Cnet report, Xiaomi's devices that infringe upon Ericsson patents cannot be imported or sold until February 2015.
Xiaomi's e-commerce partner in India, Flipkart, is also barred from advertising and selling 'infringed-upon' smartphones of the former.
Both the high-end Redmi Note, priced at a comparatively affordable £103 (INR 9,999, $162), and the mid-range Redmi 1S, priced at £60 (INR 5,999, $100), are now closed for purchase registration on Flipkart.
Mi Fans express solidarity towards Xiaomi
Both owners and prospective buyers of Redmi devices have taken to social networking site Facebook to express their support towards Xiaomi.
Below are some of the popular comments made on FB, by fans of Xiaomi, in support of the Chinese smartphone brand: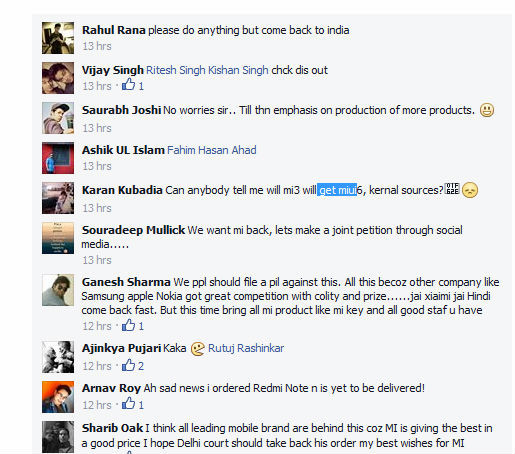 Will other smartphone brands suffice in Xiaomi's absence?
With yet another Chinese smartphone brand, OnePlus, seemingly making inroads into multiple markets across the world with its One smartphone, it remains to be seen whether this device emerges as an alternative to Xiaomi in India.
OnePlus recently announced a proper pre-ordering system, in which the One smartphone was sold out comparatively quickly, and the company also sells smartphones via an invite system.
Very recently, OnePlus announced that it had stocked enough One units for customers to buy without having to subscribe to get invited to purchase the smartphone.
OnePlus' offer runs while stocks last, and orders will be shipped to customers before 25 December, 2014.
Read our comparison of how Xiaomi's flagship Mi 4 stacks up against the OnePlus One.