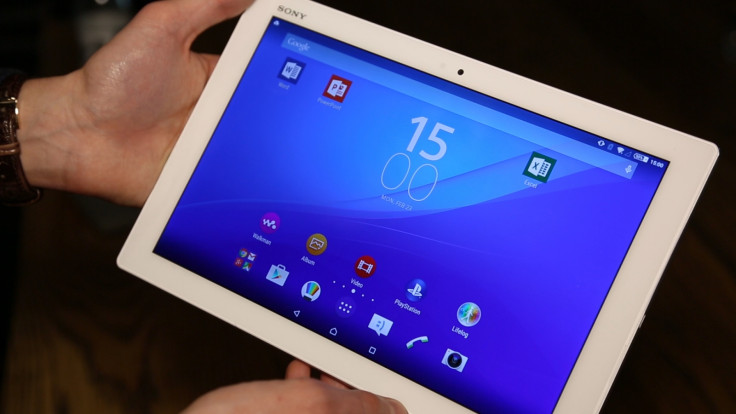 Sony has announced the Xperia Z4 Tablet at Mobile World Congress 2015 in Barcelona.
It's a 10in slate with a WQXGA (2560 x 1600) screen resolution, putting it firmly in Quad HD territory. It boasts a slim body which is smaller in every direction than the year-old Z2 Tablet.
IBTimes UK went hands-on with the Xperia Z4 to see how it compares to its direct competition - the Apple iPad Air 2.
Light touch
Packing the same size screen as the Z2 Tablet - but with twice the resolution - the Z4 addresses a key complaint of its predecessor by shrinking the borders around the edge of the display.
The Z4 Tablet is also thinner than all previous Xperia tablets, measuring 6.1mm - exactly the same as the Apple iPad Air 2 - and the tablet is waterproof without needing any covers over its headphone jack and micro USB port.
Favouring plastic over aluminium for its back cover, the Xperia Z4 Tablet is lighter than the Air 2, weighing just 392g compared to the 437g iPad. Sony's footprint is 254mm x 167mm, compared to the iPad's 240x170.
Sony says the 6,000mAh battery will power the Z4 Tablet for 17 hours of continuous video playback, seven more than Apple's claims for the iPad Air 2.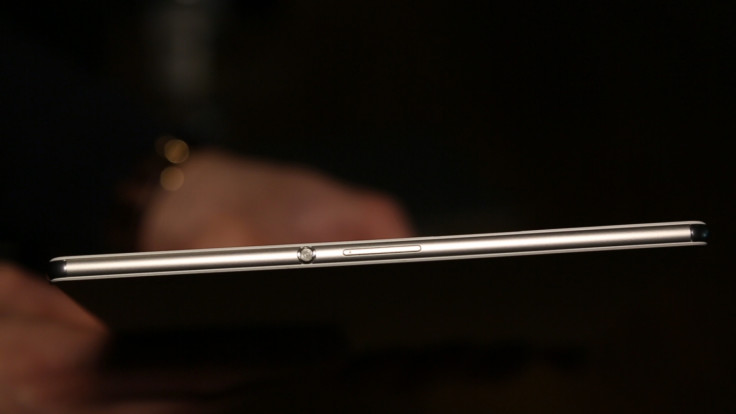 Eye of the beholder
As compelling as the Xperia Z4's slim build and light weight is, it's the QHD display with a 300 pixel per inch density (10% more than the iPad Air 2) that is most striking.
Sony describes it as the brightest 10in tablet on the market and on first impressions we're inclined to agree - it is a truly beautiful display, enhanced and deceptively enlarged by the small borders.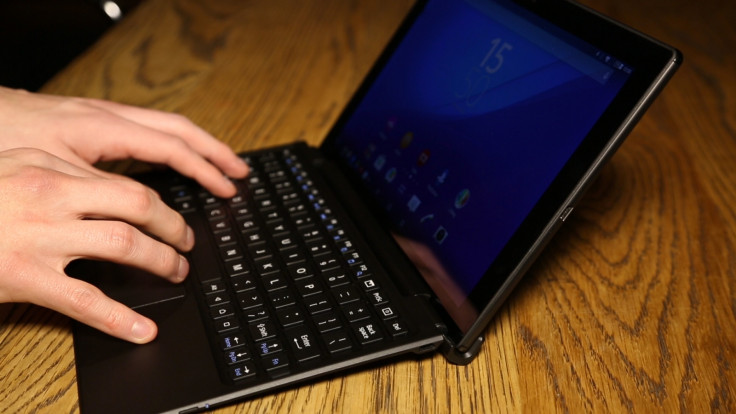 Broad reach
No longer content with pushing its phones and tablets as entertainment devices for consuming Sony music, films and games, the company is casting its net wider in an attempt to capture the business market.
A Bluetooth keyboard dock accessory was announced alongside the Z4 Tablet, converting it into a laptop, complete with trackpad, on-screen mouse cursor and a desktop-style application launcher.
The keyboard looks great and connects securely, holding the tablet stable anywhere between closed and 130 degrees, but the keys are quite small and have limited travel, and the board itself has a fair amount of flex. We hope Sony addresses these issues before it goes on sale in a couple of months' time.
Sony is clearly going after the Microsoft Surface, but we don't yet know how much the keyboard dock will cost when both it and the tablet go on sale in the spring, in black and white colour options.
Sony is also keeping quiet on the price of the Z4 Tablet, but based on its predecessor we expect it to cost around £400.