Peter Sutcliffe called Ian Huntley a "child killing b*****d" in a shocking prison bust-up, according to the Yorkshire Ripper's brother.
During the altercation, the 70-year-old who was convicted of murdering 13 women and attempting to murder seven others, told Huntley "p**s off" at the Category A HMP Frankland in Durham.
Huntley is serving two life terms at the prison for murdering 10-year-olds Holly Wells and Jessica Chapman in Soham, Cambridgeshire, in 2002.
Only last week it was reported that Huntley, 43, wanted to be called "Lian" and undergo a sex change, so he could be transferred to a women's prison.
The confrontation between two of Britain's most evil men comes after Sutcliffe, who has taken his mother's maiden name and is now known as Peter William Coonan, was transferred to the jail from Broadmoor Hospital.
The row was revealed by Sutcliffe's brother Carl who told the Mirror: "He [Coonan] doesn't like Huntley at all. Peter's always been good with kids and he must think killing two children is worse than 13 women. But it doesn't make sense to me."
The 56-year-old continued: "Peter thinks he's a higher class of killer than Huntley, but a murderer is a murderer in my eyes."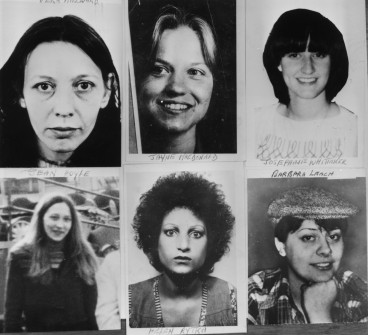 Coonan was jailed in 1981 for the 13 murders but was moved from Broadmoor psychiatric hospital last year after a ruling stated that he was sane.
Coonan, who lost sight in one eye after a 1997 attack and has a growth in the other, reportedly feared that he would be targeted by other inmates on being moved to the jail, but his brother said he was welcomed to his new home.
Carl Sutcliffe said: "They've been giving him money for stamps so he can write to pen pals. One inmate has been leading him around keeping him safe.
"They've all been really nice to him. Now he wishes he'd been moved there years ago."
Huntley must serve 40 years in prison before being considered for release. At the time of his murders, he claimed Wells drowned when he "accidentally" knocked her into a filled bath while helping her deal with a nosebleed and that he "accidentally" strangled Chapman when she began to scream.