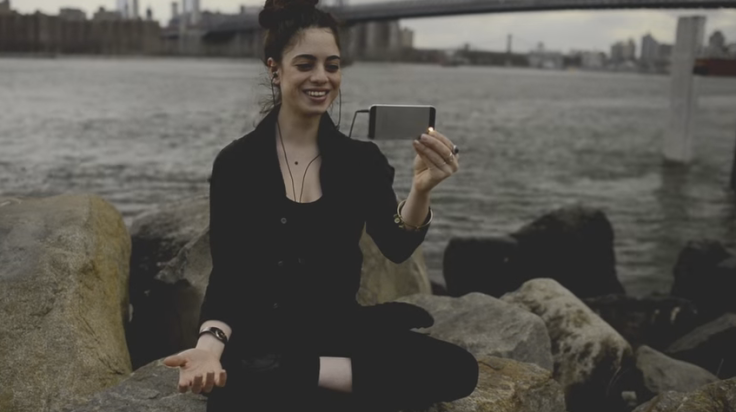 Imagine a stereo system that could be adjusted to suit your mood without having to switch between your uptempo and relaxing playlists? Grammy-nominated songwriter, producer and visual artist Jonathan "j.viewz" Dagan has released a new, first-ever interactive music video for his song Almost Forgot that is completely controlled by the listener's own heartbeat in real-time. If you're in a mellow mood, the track plays as a slow ballad, perfect for relaxing. If you're in a more active mood or at the gym, the track speeds up to keep up the pace.
Developed by digital creative agency Hello Monday, the interactive video #Almostforgot is available as a free iPhone app. By simply placing your finger on the back camera of your phone to allow the app, the app detects slight changes in skin colour and allows us to use our heart as a metronome for the track.
Featuring Kelli Scarr on vocals, #Almostforgot is one of the songs from his upcoming 401 Days album set to release on 20 May.
"I was low on inspiration. I felt like I was living on crumbs... not reading anymore, only reading back-of-books, hardly listening to music, only listening to songs 'brought to you by a certain brand,'" Dagan said in a statement to Mashable. "I almost forgot my heart, and once I realized it this song just become the richest thing I could imagine creating."
The album is also the culmination of The DNA Project which documented the making of the new J Vewz album as each step in the process took place. The Brooklyn-based creative says his new album blurs the line between the artist and consumer.
"I walked into this project with not a single written song. Everything happened in real time, every line of lyrics, every fragment of thought that was posted on the site, every sound or a melodic idea," Dagan said.
While health-based wearable tech that can track your heart beat, blood pressure and more has been on the rise, there have been other ventures connecting music to your pulse as well. Spotify Running, a section inside the Spotify app, can create playlists based on your running tempo. BioBeats' Pulse app also uses a smartphone camera to monitor changes in the finger's color to determine heart rate to generate custom music in the genre of your choice off that tempo.
#AlmostForgot is available for free on the App Store for iPhone users. Android users can head to the Almost Forgot website on Chrome if they have Lollipop or Marshmallow.