Holly Willoughby is being panned on social media after giving away a huge spoiler about Star Wars on This Morning.
The 36-year-old co-host of the ITV morning show was told off by John Boyega and accused of "ruining Star Wars" by viewers after making a blunder while interviewing the actor with Phillip Schofield today (13 December).
Speaking to Boyega, who plays Finn in The Last Jedi, Willoughby said: "Fans will be happy Yoda is back!"
A shocked Boyega, 25, replied: "Oh, Holly. Holly. Holly. You can't tell the fans exactly what happens!"
While mother of three Willoughby was insistent that the information was already out there, Boyega was unconvinced.
He said: "Gosh! Things happen, get your ticket. Man, I can't reveal that."
Attempting to have Willoughby's back, co-host Schofield joked: "Maybe Yoda isn't back? Maybe it was just a short alien."
Boyega laughed and said: "Maybe it was me on my knees."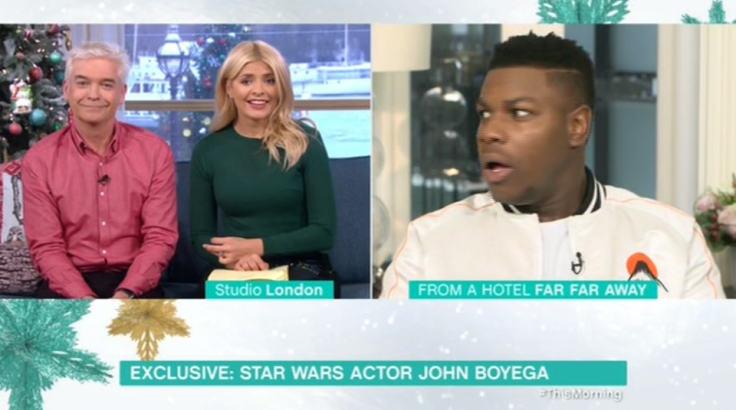 Angry Star Wars fans took to Twitter to express their dismay, with one person tweeting: "Well done Holly.......you have just annoyed a lot of Star wars fans #spoileralert".
Another put: "Managed to stay spoiler free for the new Star Wars then Holly on This Morning just casually throws out a huge one judging by John Boyega's reaction."
A third added: "Holly, what have you done! Avoided anything to do with star wars and you drop the yoda bombshell, omg!!" as someone else said: "no one cares about ur Zara skirt holly hun when you've ruined star wars! ! !"
Another viewer referenced Prue Leith's previous Twitter gaffe announcing the Bake Off winner 12 hours before the finale aired, writing: "Prue Leith: I am so sorry to the fans of the show for my mistake this morning, I am in a different time zone and mortified by my error. Holly Willoughby: Hold my beer. #StarWars #ThisMorning".
Boyega revealed that upon receiving the script, he skipped to the end to find out if his character dies.
He told the presenters: "I like to go to the end of the script and just see what happens and just see if I survive first."
Boyega landed the role of main character, stormtrooper Finn, in the highly anticipated franchise revival, Star Wars: The Force Awakens, which was released in 2015.
Star Wars: The Last Jedi, is out tomorrow (14 December).