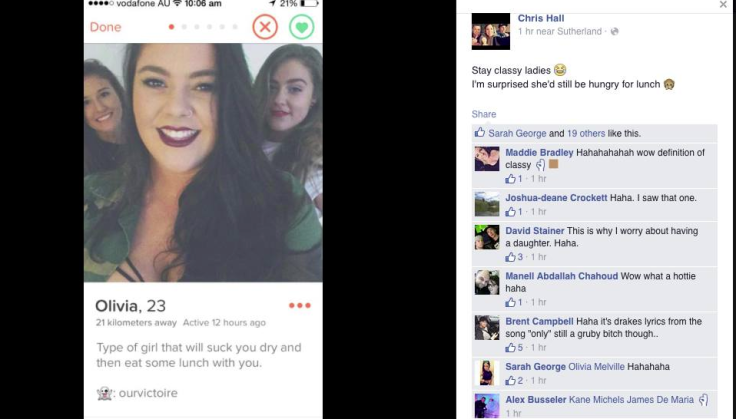 After a number of women in Australia allegedly received rape and death threats on Facebook, a 25-year-old man, Zane Alchin, has been charged by Sydney Police with 'using a carriage service to menace, harass or cause offence'.
When friends of Olivia Melville found that another man, Chris Hall, had posted a screen shot of Melville's Tinder profile to 'slut-shame' her, they rallied to her defence. Melville's bio on Tinder contained Drake lyrics: "Type of girl that will suck you dry and then eat some lunch with you." When Hall posted the screenshot, he captioned it: "Stay classy ladies. I'm surprised she'd still be hungry for lunch."
When friends found the post, they intervened. In screen shots posted by Sexual Violence Won't Be Silenced (SVWBS), a group set up by friends of Melville, Alchin is seen making rape and death threats to the groups founders in response to their defence of Melville.
The group said that police were initially reluctant to act, unsure of how to proceed with such charges, but on Monday they posted that "the person who allegedly made explicit rape threats to the core members of Sexual Violence Won't Be Silenced has been charged with using a carriage service to menace, harass or cause offence".
"SVWBS would like to thank the Newtown Local police for their hard work on this case, and the Australian media [and international media] for covering the case. They also thank every person who signed the petition, followed the page and supported the movement. As a group, we support and acknowledge that the matter is now in the hands of the Australian legal system and we are hopeful that justice will be served accordingly," the group said.
Alchin will appear in Newtown Local Court on 29 October.