Zimbabwe opposition leader Morgan Tsvangirai called to lead national fight against President Mugabe
Mugabe, who turned 93 last month, says he will remain Zimbabwe's leader 'until God says "come"'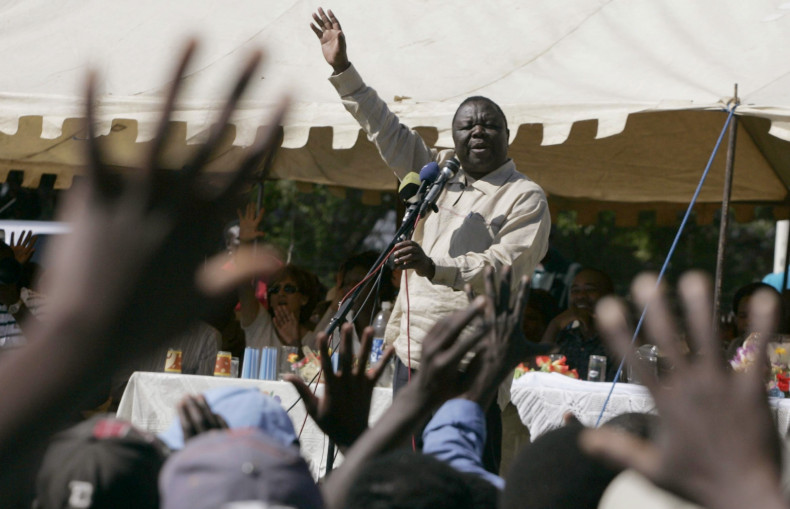 Zimbabwe opposition leader Morgan Tsvangirai has been urged to lead a national effort by Zimbabweans to stop President Robert Mugabe from standing as a candidate for the ruling Zanu-PF party next year, according to reports.
Zimbabwe's ruling Zanu-PF party confirmed Mugabe as its candidate for the 2018 elections, in spite of his age. Mugabe, who turned 93 last month, meanwhile, said he will continue "until God says 'come'", adding he has no intention of stepping down – despite being Africa's oldest leader and the only president Zimbabwe has known since it became independent in 1980.
The opposition MDC-T party called on its leader Tsvangirai, who was prime minister between 2009 and 2013, to seek national consensus against Mugabe's participation in the polls, citing the president's age and fears of violence as main reasons.
In a statement, Tsvangirai's spokesperson Luke Tamborinyoka said the demand came after Mugabe's chief rival Tsvangirai visited the Zanu-PF political heartland of Mashonaland East province.
"Opinion leaders told President Tsvangirai that there must be a national clarion call to urge President Mugabe not to contest the next election. At the ripe age of 94, it is impossible for the nonagenarian to come up with any new ideas to rescue the country from the current abyss," Tamborinyoka said.
Members of Mugabe's Zanu-PF responded to the claims, contending it was Tsvangirai who was scared of a defeat in the elections, according to NewsDay newspaper.
"It would not surprise us if Tsvangirai were to vote for President Mugabe because all people naturally would want to be associated with winners. Tsvangirai has already convinced himself of defeat next year, because if it were not for that, then why would he bother himself with a candidate he is sure to win against," Zanu PF politburo secretary for youth, Kudzanai Chipanga, said.
"We do not vote for a president to bring in new ideas, but for what he has done and what he stands for. We know President Mugabe and what he stands for. If he were to change his personality, he might actually fall out of favour with the party."
According to official results, Tsvangirai lost the 2002 elections, took 47.8% of the first round of the 2008 poll but withdrew shortly before the second round claiming widespread violence and intimidation meant the polls could not be free and fair. In 2013, Tsvangirai came second with 34% of the vote, against Mugabe's 61%.
In June 2016, Tsvangirai publicly announced that he was undergoing treatment to cure a colon cancer, in neighbouring South Africa.