YouTube power couple Zoella and Alfie are celebrating another milestone in their relationship, moving into a beautiful new home. The vloggers, affectionately dubbed Zalfie, kept the exciting news a secret from their millions of subscribers for four months before announcing they had moved into their new place.
Zoella, real name Zoe Sugg, revealed the move in a new vlog titled The Happiest Day, which has received 1.3 million views already. Boyfriend Alfie Deyes uploaded his own announcement named The Big Day on 11 June. The influencers said they purchased the sprawling Brighton property in February and have quietly moved their belongings themselves without the help of a removal company.
In her video, Zoella, 27, gushed: "I don't think I've ever been this happy in my entire life. I'm so happy and I just feel like I'm the luckiest person in the world. I'm really happy we're vlogging this as well because there was a part of us that thought 'how much do we really want to share?'
"I hope it doesn't come across like we're boasting. We're so aware that we're in the luckiest position that we're able to do this and we're so grateful. I'm happy that we're vlogging today as our first day in so we can look back at this. It's those big milestones that you question whether you should film or not but when you do, you're so happy."
In 2015 the couple bought their first home together, a five-bedroom detached house reportedly valued at £1m. However, their domestic bliss was interrupted after a website published their address, prompting many of their young fans to camp outside. In one previous video, Alfie, 23, complained of the intrusion of their privacy and revealed that mothers were even driving their daughters to their house and ringing the doorbell.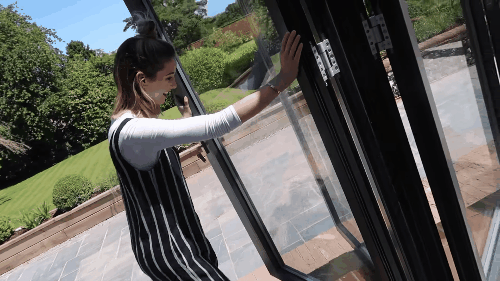 Their new home will no doubt afford better privacy, with the couple cautiously refusing to disclose the exact location. Although they are yet to post an official home tour, Zalfie did offer a glimpse of the huge property in the announcement vlogs. Their light and airy kitchen includes a modern conservatory, which boasts large sliding doors leading out onto a massive garden.
One of the most cosiest rooms shown so far is their living area featuring a neat fireplace. However, Alfie seemed particularly impressed with their new waterproof garden sofa, which he eagerly demonstrated with a bottle of water.
It is not known how much the new home set them back but Zalfie can certainly afford to treat themselves, with Zoella approaching 12 million subscribers, releasing two best-selling novels and launching a lifestyle range. Alfie is also a YouTube star in his own right and is preparing to release his third Pointless Book. In March 2016, it was reported that Zoella was earning at least £50,000 per month.