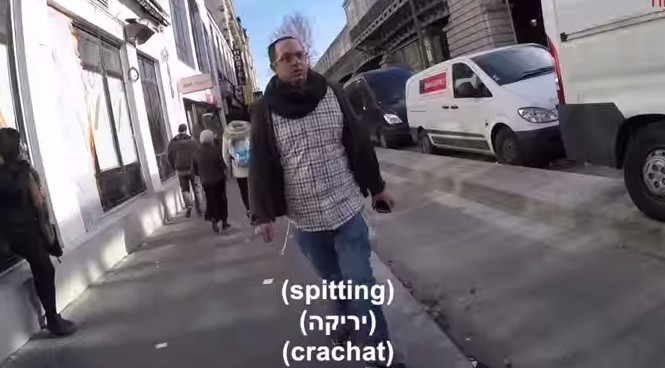 An Israeli journalist has recorded a video of how much anti-Semitism he experienced while walking around Paris for 10 hours.
The video, entitled Ten Hours of Fear and Loathing in Paris, was uploaded onto YouTube by reporter Zvika Klein as part of a story for the NRG website.
During the video, people can be seen spitting at Klein, yelling "Jew" at him in the street and in one instance a person says "Viva Palestine" while he walked through the French capital wearing a Kippah.
The video, heavily inspired by the 10 Hours of Walking in NYC as a Woman 'catcalling' video, which attracted tens of millions of views last year, was released following concerns of a rise of anti-Semitism in France and the rest of Europe in the wake of the terror attacks in Paris as well as last year's Gaza strip crisis.
The increase in attacks, including the recent desecration of a Jewish graveyard in eastern France, resulted in Israel's Prime Minister Benjamin Netanyahu urging all Jewish people in Europe to emigrate to Israel for their own protection.
Writing about his experience making the video for NRG, Klein said he was assigned a bodyguard as he walked through areas of Paris which are known to be heavily populated with Muslims.
He said: "At times it was like walking in downtown Ramallah. Most women were wearing a veil or a hijab, most men appeared to be Muslim, and Arabic was prevalent everywhere."
He added: "Walking into a public housing neighbourhood, we came across a little boy and his hijab-clad mother, who were clearly shocked to see us. 'What is he doing here Mommy? Doesn't he know he will be killed?' the boy asked.
"Walking by a school in one of Paris' neighbourhoods, a boy shouted 'Viva Palestine' at me. Moments later, passing by a group of teens, one of the girls remarked, 'Look at that – it's the first time I've ever seen such a thing.'
"Walking down another neighbourhood, a driver stopped his car and approached us. 'We've been made,' I thought. 'What are you doing here?' he asked. 'We've had reports that you were walking around our neighbourhood – you're not from around here.'"
The number of anti-Semitic attacks in France, which has the biggest Jewish population in Europe, more than doubled in 2014, with 851 incidents reported, according to the Council of Jewish Institutions in France (CRIF).