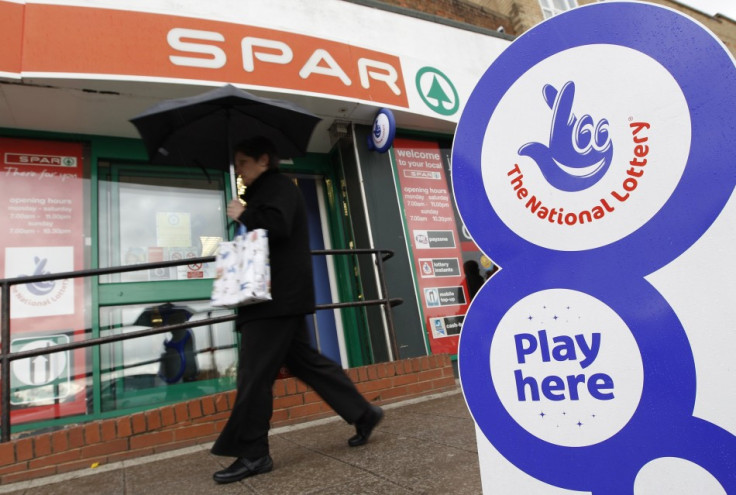 The newly millionaire couple from Largs in Ayrshire have been named as the winners of the £161m Euromillions jackpot, three days after the results were first announced.
The prize was Europe's biggest-ever and was capped after a series of rollovers.
Euro lottery winners Chris and Colin Weir are just underneath the Beckhams on the UK rich list
Mr and Mrs Weir held a press conference in Falkirk, hosted by the lottery operator Camelot.
On the night of the draw Chris was checking their numbers about midnight on the television in their bedroom.
"I started circling the numbers I had matched but wasn't doing very well. Then on the fifth line, all the circles seemed to join up."
As the telephone line run by Camelot for claims was closed, Chris and husband Colin sat up all night full of excitement trying to come to grasp with what had just happened.
"I even had a glass of white wine which is something I normally only do at Christmas!" laughs Chris.
Before Tuesday's draw, the largest lottery winner in the UK was the player who claimed £113m in the EuroMillions last October and chose to remain anonymous.
The couple have displaced former postal worker Angela Kelly from East Kilbride, who became Scotland's biggest winner in August 2007 when she scooped £35,425,411.80 in the EuroMillions jackpot.
National Lottery operator Camelot runs the EuroMillions draw in the UK and has also had the same role for the weekly Lotto draw since it was launched in 1994.
The firm says that its draws have created about 2,400 lottery millionaires in the UK in the intervening 17 years.
If the winner of Tuesday's draw had been a single player, he or she would instantly have been placed 430th in this year's Sunday Times Rich List just above Scottish businessman Sir Angus Grossart and Irina Abramovich, the former wife of Russian oligarch Roman Abramovich.
Colin and Chris Weir matched all five main numbers and both Lucky Stars.
The numbers were 17, 19, 38, 42 and 45, and the Lucky Stars were 9 and 10.
Two other UK-based lottery players won £1.7m after they successfully matched five numbers and one Lucky Star.