17 people killed in al-Qaeda attack on Somalia hotel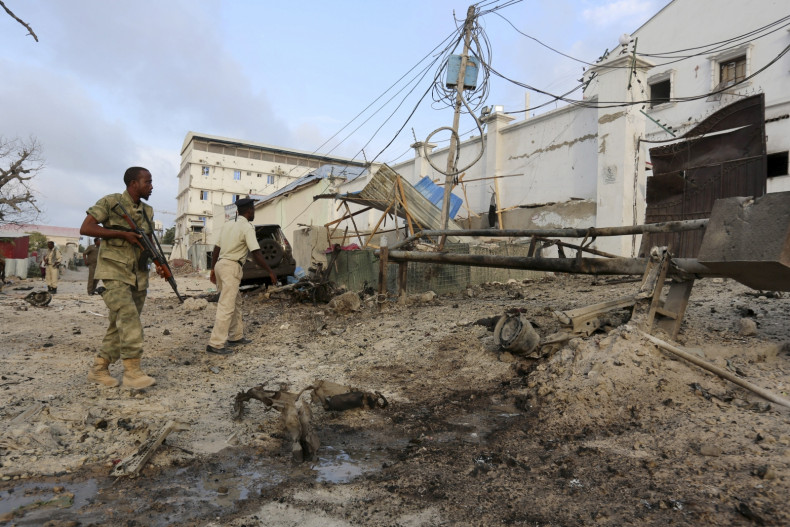 At least 17 people have been killed and dozens more have been wounded after extremist gunmen stormed and occupied a hotel in the Somalian capital of Mogadishu on Friday (27 March).
Somali troops took full control of the Maka Al-Mukarramah hotel on Saturday (28 March), after gunmen occupied the third and fourth floors for at least 12 hours.
"The operation has ended. We have taken full control of the hotel," senior police officer Capt. Mohamed Hussein told AP. He said all the attackers had been killed, but there was no immediate confirmation of how many of the dead were militants.
Islamic militants blasted their way into the hotel on Friday, after a suicide bomber detonated a car at the gate of the hotel at 4pm (1pm GMT).
Somali special forces broke through the compound wall and exchanged gunfire with fighters holed up in the main building of the hotel. They appeared to have waited until daybreak before completing the operation.
Senior police officer Colonel Farah Aden told Reuters that Somalia's ambassador to Geneva was among the dead.
"Those who died include civilians, hotel guards and government soldiers," he added.
The al-Qaeda-linked al-Shabaab group issued a statement taking responsibility for the attack.
"We are behind the Hotel Maka Al-Mukarramah attack, and fighting is still going on inside," the group's military spokesman Sheikh Abdiasis Abu Musab told Reuters on Friday.
Al-Shabaab carried out a suicide bomb attack on Mogadishu's Central Hotel in February this year, killing at least 25 people.
Al-Shabaab routinely targets government troops, lawmakers and foreigners in Mogadishu, and has also carried out attacks in neighbouring countries such as Kenya, whose military supports the Somalian government.
At least 67 people were killed when al-Shabaab forces stormed a mall in Nairobi, Kenya, in September 2013.