At least 19 people are reported to have been killed when a bus carrying around 40 passengers toppled off a highway and fell into a deep gorge in eastern Myanmar. Twenty one others have suffered injuries, police said on Saturday (29 April).
The incident took place a day earlier on Friday, and the bus was travelling from central Bago province. It slid off the highway near Myawaddy, a town on the Thai border, AFP reported.
Local media reports suggested that the bus was trying to avoid a head-on collision with another vehicle.
"Nineteen people were killed and 21 people were injured, while a few people were lucky to live," Kyi Lin, the chief of police in Karen state, told the news agency. "[The bus] fell down into a narrow and deep gorge."
The brake on the bus reportedly failed leading to its driver losing control of the vehicle, he added.
The police chief further said that those who have sustained injuries have been taken to a nearby hospital for emergency care, while authorities and local aid groups are making funeral arrangements for those who died.
At least seven of the 21 injured passengers are reported to be in "critical condition" and have been admitted at a hospital in Mae Sot, a Thai town across the border, according to a medical worker.
The accident on Friday is thought to be one of the deadliest accidents along the section of road linking Thailand and Myanmar since it became operation three years ago.
Road accidents are reportedly a common occurrence in Myanmar. According to the country's Organisation for Road safety, approximately 11 people die in traffic accidents every day.
The mishaps are reported to be due to poorly built roads and highways in the country that is thought to have suffered due to underinvestment by the junta government, which ruled Myanmar until 2011.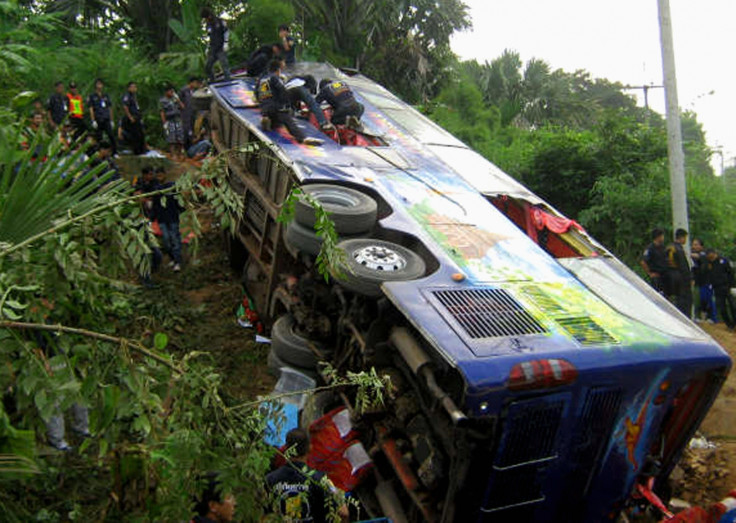 The World Health Organisation, in its 2015 report, placed Myanmar's roads as the second most dangerous – just behind Thailand - in Southeast Asia. Myanmar recorded over 20 road fatalities per 100,000 people. Ithe neighbouring Thailand, it was estimated that about 24,000 people die each year in road accidents.