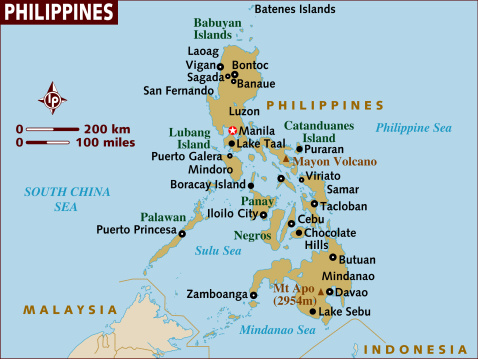 Four people including two Canadian nationals, a Norwegian resort manager and a Filipino woman have been abducted from a tourist resort in southern Philippines by unidentified gunmen. The Philippines army's Eastern Mindanao Command's spokesperson Albert Caber said they were taken at gunpoint from the Oceanview resort on Samal island, near Davao City, the largest city on Mindanao island in southern Philippines, on Monday (21 September) night.
Two Japanese nationals tried to intervene before the gunmen escaped with the hostages on a motorised boat fleeing towards the coast of Compostela Valley province situated across the island, Caber said. CBC News quoted Caper as saying: "Four people were taken but we do not know what group was behind the attack. It appeared the foreigners were the targets, they were not taken at random."
He, however, declined to comment on any possible suspects. As of now three navy ships have been sent to intercept the boat, while police have issued a red alert on the ground as well.
According to Reuters, the abducted foreigners were identified as John Ridsel, 68 and Robert Hall, 50, from Canada and Kjartan Sekkingstad, the Norwegian resort manager. The Filipino woman was not identified but she is believed to be the wife of one of the Canadians. At the time of the kidnapping there were 30 tourists at the resort, the army said.
Ridsel, according to news reports, is the president of TVI Minerals Processing Inc, a mining company based in the Philippines. The company is affiliated with TVI Pacific Inc, which is based in Canada. According to Heavy.com, Ridsel previously worked for Petro-Canada in the Middle East.
Real Sorroche, a journalist with 24 Oras Southern Mindanao, posted photos on his Facebook page that appears to show the victims on the boat. The photographs however could not be immediately verified.
A similar incident took place on the same island in 2001, when al Qaeda-linked Abu Sayyaf Islamist militants tried to kidnap foreign tourists from Pearl Farm resort. Their attempt, however, failed when security staff intervened. Three security men died fighting the attackers.
The Abu Sayyaf Group, founded in the early 1990s, is a violent terrorist group operating in the southern part of the country and is notorious for kidnappings, bombings and even beheadings in the region. In September 2014, the group pledged allegiance to Islamic State (Isis).