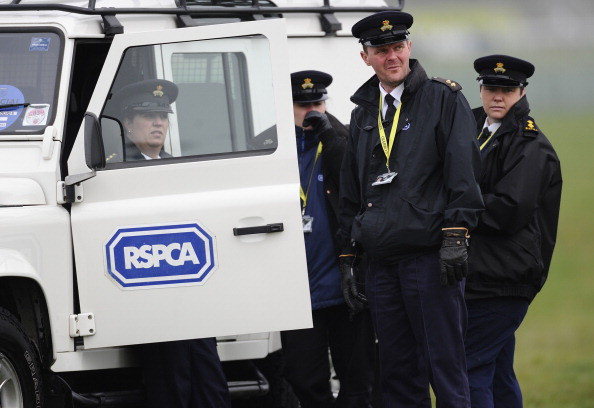 Nine abandoned dogs were found in such terrible condition that the RSPCA could not identify their breeds.
The animals were found in Winchester, five in the nearby villages of Upham and Owslebury, and one in the town of Alresford.
RSPCA officers reported that they were found huddled together in a corner and at first looked like a pile of rags. Their fur was so matted and overgrown that they were unable to see or stand properly.
It is thought the dogs may be Portuguese water-dogs or poodle crossbreeds, which are worth up to £500, although it is difficult to identify the breed because of their condition.
Winchester City Council's senior animal welfare officer, Dave Griffiths, said: "In my 25 years of being in this line of work I've never seen anything like it. Because they are all poodles or poodle crosses and from the same litter, it is likely that they are from one owner.
"My guess is that the puppies were mistreated all their lives and have always been in awful conditions. I suspect they have been keeping them in an outside outhouse or a shed. I certainly think they were kept outside in a building of some sort."
Horrified by the state of the dogs, he said: "I can't understand how someone would let it get to that extent. To let a dog get to that stage is something I have never seen before. The mum is very people shy and she was in a very bad condition. They were terrified and really scared, my heart went out to them," he added.
The animals had to be shaved by vets, who found that each animal weighed 12 kilograms, almost half of what their whole body weight should be.
"The standard poodle of this size weighs about 25 kilograms (3.9 stone) and when we clipped their coat the fur weighed 12 kilograms. Clipping them took a lot longer than usual, they took an average of three hours each," said one of the vets.
The dogs have now been taken to kennels where they are receiving ongoing veterinary care. The eight-year-old mother, has been named Sian and the other dogs have been named: Mavis, Martha, Fay, Justin, Wills, Kate, Maria and Dave.
Jan Warwick, Winchester City Council's portfolio holder for environment, health and wellbeing, said: "When i first saw them I was heartbroken. I wasn't quite sure what I was looking at. I was just hoping that they were taken care of and that none of them had to be put down. We have to legally take control of them for seven days. We make sure that they are safe.
"After that we will pass them on to the RSPCA to do checks and then find the right place for them. We take in about 150 to 200 dogs every year but I've never seen anything as bad as this before. We really need the public to come forward and help us with any information that they have," she explained.
An RSPCA spokesman told the Daily Mirror that they will be working with Winchester City Council and the police to track down the person responsible for the abuse of the animals.
"We are keen to find out ... how they were abandoned, and how they came to harm. The council's dog warden came across them, and we are now liaising with them with regard to their care."
Authorities are asking for members of the public in the Winchester area of Hampshire to help catch those responsible.
Anyone with information is asked to call the council on 01962 840222 or email eh@winchester.gov.uk.