An early design for the vast main building of Apple's new $5bn (£3.9bn) headquarters made it look like male genitalia, Steve Jobs' teenage son Reed pointed out to the Apple co-founder in early 2010.
Jobs had brought home drawings of the upcoming headquarters, now called Apple Park and due to open before the end of 2017. But Reed, who was 19 at the time, pointed out how, to passengers flying into nearby San Francisco International Airport, the three buildings, spread across the landscape like the blades of a propeller or sections of a clover leaf, would give off the wrong message.
According to Walter Isaacson's 2011 biography of Jobs, cited by a Wired feature on Apple Park, Jobs repeated the observation to his architects the next day, adding: "You're never going to be able to erase that vision from your mind." Despite this, the article claims neither the building's chief architect Sir Norman Foster nor his design partner Stefan Behling recall this unfortunate similarity.
Just a few months later, by June 2010, the building had become a circle. The main building was referred to by outsiders and the media as a spaceship, while Apple internally dubbed it the Ring. Later in 2017, the building will finally open its doors to employees, and soon after the Steve Jobs Theatre will host its first product launch – possibly even the iPhone 8 in September.
Other gems unearthed by the Wired tour of Apple Park include how the main cafeteria can house 4,000 people at once, is spread across four floors, and has a pair of 85-foot, four-storey glass doors which open to bring the outside in – and weigh a staggering 200 metric tons each.
The building is also earthquake-proof, but not merely in the sense that it will remain standing and intact; the entire 2.8 million square-foot building is designed to move by up to 4.5 feet in any direction without being disconnected from its vital services.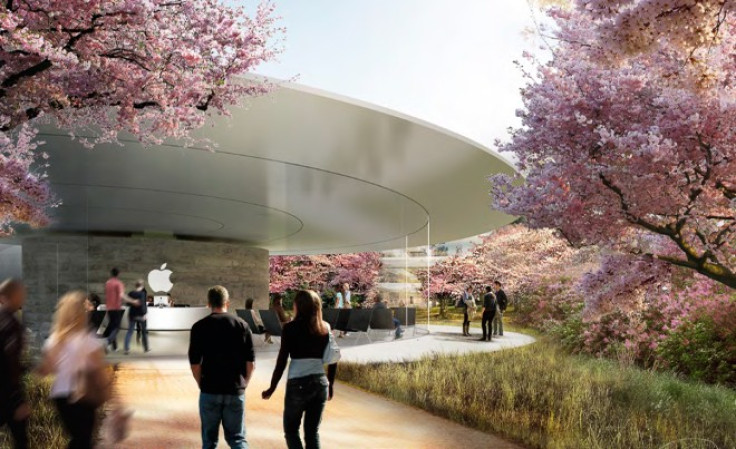 For employee wellness there is a two-storey yoga room and a 100,000 square-foot fitness centre offering medical and dental services. Another bid to improve employee well-being is how the building "breathes" instead of relying on air conditioning. Cold air is drawn in and hot air is exhaled from a series of chimneys; employees can adjust the temperature of their office "pods" artificially, but only by a couple of degrees. The goal is to make staff feel like they're outside in a varying climate, not a controlled, sterile office.
Every door handle used throughout the 12,000-employee workspace was jointly designed by Apple and Foster + Partners, and went through multiple iterations before the perfect design was found. Wired's Steven Levy claims they feel like they are built from the same aluminium as a MacBook Pro, and are designed to be integrated into the door frame. "Heaven forbid you would bolt something on in Apple's headquarters", the writer observes.

A material missing from Apple's products but abundant in Apple Park is wood. Jobs knew from the very start what wood he wanted to use: "Not just 'I like oak' or 'I like maple.' He knew it has to be quarter-cut. It had to be cut in the winter, ideally in January, to have the least amount of sap and sugar content." In the end, however, Apple opted with a green conscious for a custom timber veneer created from recycled wood. Outside, 9,000 trees will be planted to help soften the building's aesthetic impact on its surroundings.
What began as a sketch likened to a penis is now close to realising the goal set out by Jobs to the Cupertino City Council a few weeks before his death in 2011. "I think we do have a shot of building the best office building in the world."